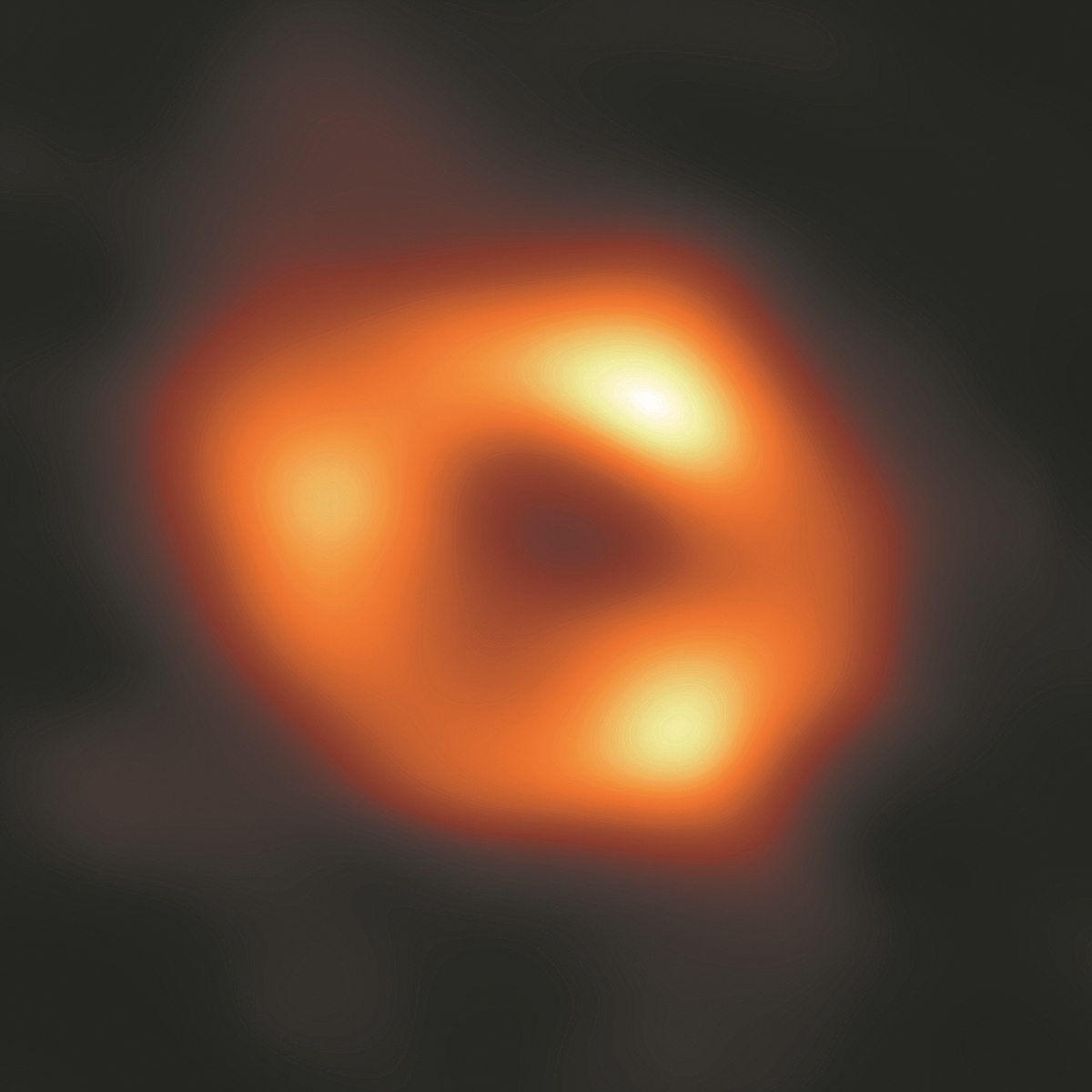 The black hole in this image released on Thursday is said to be 4 million times more massive than the sun. EVENT HORIZON TELESCOPE COLLABORATION/AP
Chinese scientists have contributed to the global effort that captured the world's first image of Sagittarius A, the supermassive black hole at the center of the Milky Way galaxy, according to the Shanghai Astronomical Observatory of the Chinese Academy of Sciences, one of the participants in the project.
Experts believe the image of Sagittarius A will help people better understand the extreme celestial objects called black holes and the evolution of our galaxy.
The Event Horizon Telescope, a global network of synchronized radio observatories that produced the first image of a black hole in 2019, held a news conference on Thursday to present the mug shot of the behemoth lurking behind the clouds of dust and gas that surround the center of our home galaxy.
While it is impossible to see the black hole itself, because its enormous gravitational pull traps light, scientists did manage to capture the swirling mass of superheated interstellar material, the orange ring-shaped silhouette surrounding it.
The image is the culmination of five years' worth of work done by more than 300 researchers from 80 institutions around the globe.
Shen Zhiqiang, director of the Shanghai observatory and the Event Horizon Telescope's coordinator in China, said scientists may eventually be able to produce a "short film" of Sagittarius A as more highly sensitive telescopes join the global endeavor.
Sagittarius A is located about 27,000 light years away from our solar system. It has an estimated mass of more than 4 million times that of the sun. It's about 24 million kilometers in diameter.
The black hole is now mostly dormant and only occasionally absorbs nearby gas or dust, but it holds many mysteries that have puzzled scientists for decades, such as its birth and growth.
Black holes typically form when the nuclear fusion of a very massive star fizzles out and it collapses upon itself into a super dense celestial object.
However, the mechanism that forms supermassive black holes like Sagittarius A is unclear because no star is large enough to directly collapse into a black hole of this size, let alone much bigger black holes like the Messier 87, the subject of the first black hole image.
Proposed explanations include that smaller black holes grow larger by swallowing nearby interstellar gas and dust or stars, or by merging with other black holes. (China Daily)