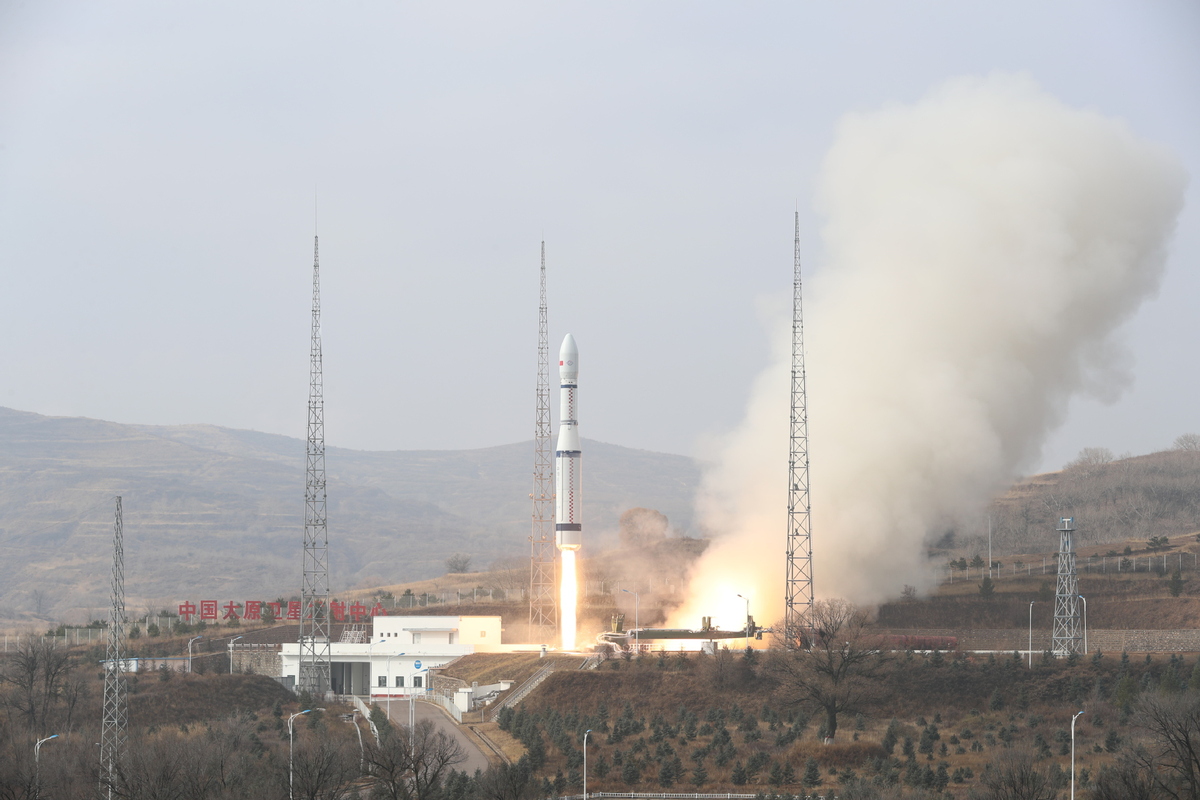 An Earth science satellite is launched from the Taiyuan Satellite Launch Center in Taiyuan, North China's Shanxi province, Nov 5, 2021. [Photo/Xinhua]
China used a Long March 6 carrier rocket to deploy a science satellite on Friday morning, according to China Aerospace Science and Technology Corp., or CASC, the country's leading space contractor.
The State-owned company said in a brief statement that the rocket blasted off at 10:19 am at the Taiyuan Satellite Launch Center in Shanxi province and later placed the Wide-Eye Geoscience Satellite into its preset orbit.
Designed and built by the Chinese Academy of Sciences, the satellite is tasked with conducting precision space-based survey of fuel consumption, urban construction and coastal environments in densely populated regions to provide data support to the research of humankind-nature interaction and sustainable development. It is the world's first satellite dedicated to servicing the United Nations' 2030 Agenda for Sustainable Development, according to the academy.
The spacecraft's development was sponsored by the academy's Big Earth Data Science Engineering Program and is the first to be operated by its International Research Center of Big Data for Sustainable Development Goals.
Friday's launch was the 395th mission of the Long March rocket family and also marked the eighth flight of the rocket, which was designed and built by the Shanghai Academy of Spaceflight Technology, a CASC subsidiary.
The 29.3-meter rocket is capable of placing about 1 metric ton of payload into a sun-synchronous orbit 700 kilometers above the ground. Its main propulsion is a 120-ton-thrust engine that burns liquid oxygen and kerosene.
The rocket is scheduled to make four flights in 2021, according to CASC.
CASC plans to make more than 40 launch missions this year, including those for the nation's space station program. By now, it has carried out 38 launches and all of them were successful. The company's space program planners said 2021 will become the busiest year for it in terms of launch activity.
In 2020, the space giant conducted 34 launches, including three made by Long March 5-series rockets that carried into space China's next-generation manned spacecraft, the country's first independent Mars probe and the Chang'e 5 lunar sample-return mission. (chinadaily.com.cn)