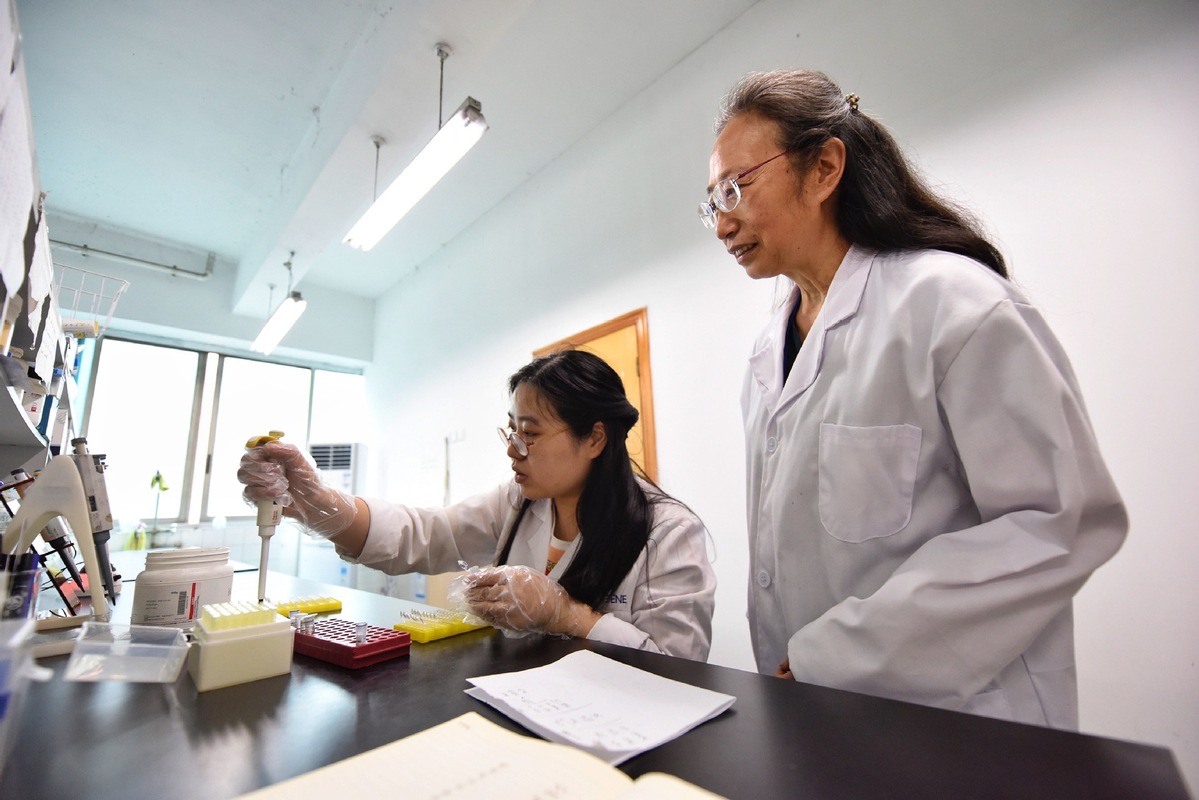 Researchers conduct experiments at the Chengdu Institute of Biology, the Chinese Academy of Sciences in Chengdu, Sichuan province, on May 21, 2021. [Photo/Xinhua]
Experts called for more investment in basic research to improve China's science and technology innovation and accelerate the building of a strong scientific and technology powerhouse.
China has already put scientific and technological innovation and self-reliance at the core of its development agenda. The 14th Five-Year Plan (2021-25), adopted by the country's top legislature in March, set the goal that R&D spending will increase by more than 7 percent per year during the period.
In May, while addressing the general assemblies of the members of the Chinese Academy of Sciences and the Chinese Academy of Engineering, President Xi Jinping stressed the importance of sci-tech self-sufficiency, especially in core technologies, which should always be considered a strategic support for national development.
Xi, also general secretary of the Communist Party of China Central Committee and chairman of the Central Military Commission, noted in his speech on the CPC's 100th anniversary that China must build up its strength in science and technology.
Cai Ronggen, a physicist and an academician of the Chinese Academy of Sciences, said at a news briefing on Friday that despite China having achieved great scientific progress in recent years, there is still much room for improvement.
Basic research is the source of the entire innovation system. The reason why the country still faces many bottleneck technical problems is that many basic theories have not yet been fully understood, he said.
Doing basic research often comes with unpredictability and requires a long time and a pool of outstanding talent. Therefore to strengthen basic research, a long-term, stable and supportive environment is a must.
He said the central government in recent years has introduced many policies improving the management of research funds, the evaluation of research results and the benefits for talent, which greatly motivated scientific personnel and boosted the vitality of innovation.
But to further create a favorable environment, the country should draw on the experience from other advanced countries and establish more research centers of basic disciplines in academic institutes where scientists from different research fields can hold extensive discussions and spark new ideas.
This is also a way to further promote cross-discipline integration and foster more inter-disciplinary talent, he added.
Chen Xuedong, an academician of the Chinese Academy of Engineering, said at the briefing that China needs to beef up efforts in developing original and disruptive technologies and strive to become an original technology curator. To achieve this goal, one key approach is to increase investment in basic research.
China's expenditure in research and development still lags behind that of developed countries. The country's spending on R&D accounted for 2.4 percent of GDP last year, while the figure for developed countries can reach 2.8 to 4 percent, he said.
He also suggested that the government should promote the entrepreneurial spirit and encourage more technical personnel to enter and work for enterprises as it enhances their innovative capacity, which then affects the country's equipment manufacturing industry.
He also urged accelerating reform of the sci-tech evaluation system because it plays a vital role in motivating young scientists to "climb up the sci-tech peak".
"We have to have our own sci-tech evaluation mechanism, such as the national sci-tech award system, and we hope that through the reform, we can continuously motivate more people to strive for the country's development," he said. (China Daily)