Can volcanic eruptions cause ozone loss? The answer is yes. After volcanic eruptions, the sulfur dioxides emitted during the eruption form sulfate aerosols, which are tiny droplets suspending in the atmosphere.
When the sulfate aerosol is transported to the Antarctic stratosphere, the ozone-depleting substances are activated there and subsequently, the Antarctic ozone layer is thinned. If polar stratosphere cloud exits at the same time, the chemical reactions that produce active chlorine will be accelerated, which will catalyze ozone destruction.
"The largest Antarctic ozone hole in the history appeared in the Southern Hemisphere spring of 2015 just because the sulfate aerosol from the Calbuco eruption (April 2015) was transported to the lower stratosphere over the South Pole," said Dr. WU Xue, from the Institute of Atmospheric Physics (IAP), Chinese Academy of Sciences.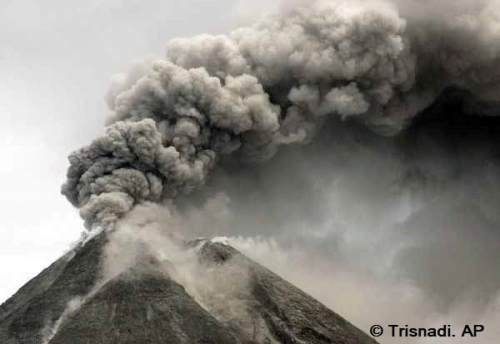 Eruption of Merapi in 2010. (Image by AP)
Her investigation on the Merapi eruption in November 2010 revealed that, although it was a volcanic eruption in the tropics, it still caused Antarctic ozone depletion one month after the eruption.
"It is surprising to see the Merapi eruption caused Antarctica ozone depletion in such a short timescale," WU said, "it is very convenient for the sulfate aerosols from volcanic eruptions in the Southern Hemisphere high latitudes, like the Calbuco eruption, to be transported to Antarctica and lead to ozone depletion, but usually sulfate aerosols from tropical eruptions have to flow with the general circulation in the stratosphere to reach Antarctica, which may take months, even more than a year."
WU collaborated with Dr. Lars Hoffmann and Dr. Sabine Griessbach from the Jülich Supercomputing Centre, Forschungszentrum Jülich in Germany simulated the transport process of the sulfate aerosol from the Merapi eruption, and found that in the late spring and early summer in the Southern Hemisphere, the subtropical jet streams - the transport barrier between the tropics and subtropics - were very weak. Meanwhile, just after the eruption of Merapi, the polar vortex was displaced away from the South Pole and broke shortly after.
Therefore, the sulfate aerosol took the "fast track", instead of the slow stratospheric general circulation, without any blocking and marched from the tropical upper troposphere all the way deep to the Antarctic stratosphere. This quick transport process took place in a quasi-horizontal poleward direction.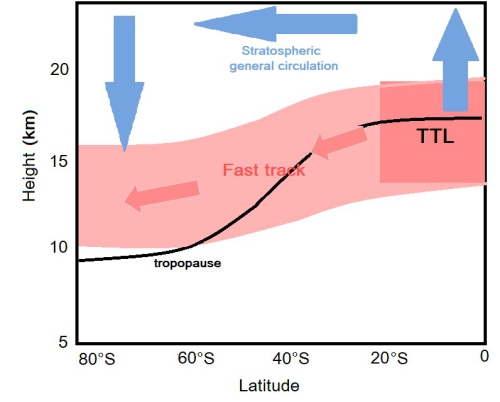 A fast track from the tropical tropopause layer to the polar lower stratosphere. (Image by WU Xue)
"The time of year when volcano erupted and the height of the volcanic plume is quite important because the atmospheric circulation varies depending on the seasons and location, and it will directly determine where the aerosols go," said WU, "and that's also important for estimating whether the ozone layer will be affected and how long it takes."
This study was published in Atmospheric Chemistry and Physics.