China has endeavored to deal with its pollution problem in the past decade, yet the mass concentrations of fine particles, particularly in Beijing, Tianjin and Hebei are still much higher than the National Ambient Air Quality Standard.
Although extensive studies have been conducted to characterize chemical composition, sources and formation mechanisms of severe haze episodes, vertical distributions of aerosol species and its interaction with boundary meteorology remain poorly understood.
A research team from the Institute of Atmospheric Physics (IAP) of the Chinese Academy of Sciences conducted three-month simultaneous real-time online measurements of aerosol particle composition at ground level and 260 m on the Beijing 325 m meteorological tower using two aerosol mass spectrometers.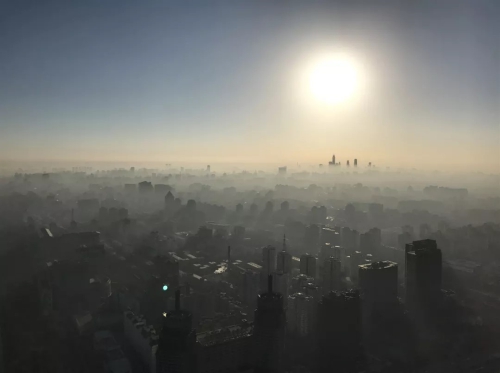 Photos taken on the Beijing 325 M Meteorological Tower (Image by LI Hao)
"The evolution of vertical differences of aerosol species in megacities is subject to the influences from both physical and chemical processes. Regional transport, mountain-valley winds, inversions of temperature and relative humidity, and mixing layer height are examples of physical processes and gas-particle partitioning and aqueous-phase processing are chemical," said Dr. SUN Yele, corresponding author of the study.
The team found that nitrate showed ubiquitously higher ratio of 260 m to ground than sulfate due to a higher formation potential from gas-particle partitioning and heterogeneous reactions aloft.
SUN further explained, "the vertical ratios of secondary aerosol species were relatively stable during the early formation stage of haze episodes, and decreased simultaneously along with mixing layer height during the later severely polluted periods with PM above 150 microgram per cubic meter."
Their findings were recently published in Journal of Geophysical Research-Atmospheres.