A research team led by Prof. LIU Shengzhong at the Dalian Institute of Chemical Physics (DICP) of the Chinese Academy of Sciences and Prof. ZHAO Kui at Shaanxi Normal University reported their findings in Joule on perovskite phase transition control for high-performance blade-coated perovskite solar cells.
"We investigated perovskite phase transition in real time from the disordered precursor sol-gel to the solid film for both spin-coating and blade-coating processes, and we elucidated the relationship between the phase transition and the morphology, photophysical properties, charge collection efficiency and photovoltaic performance for the two processes," said Prof. LIU.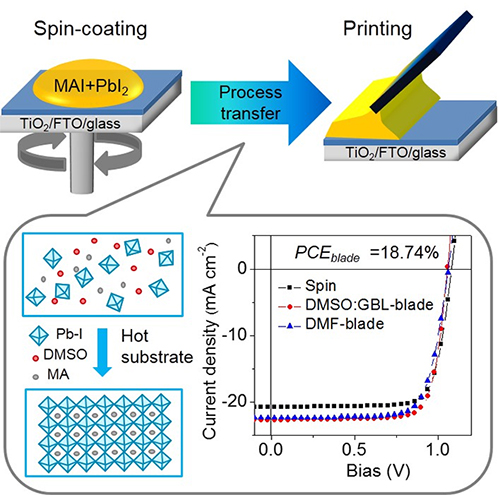 Rational process transfer leading to high performance printed solar cell. (Image by FAN Yuanyuan)
The research reveals that the large-grained dense perovskite films with high crystalline quality and good photophysical properties can be obtained only via direct crystallization for both spin-coating and blade-coating processes, which can be realized by the substrate-induced fast removal of solvent during the blade-coating process.
Based on these findings, scientists blade-coated high quality MAPbI3 films in air with excellent photovoltaic properties, leading to solar cell efficiencies as high as 18.74% for small area (0.09cm2) device and 17.06% for large area (1cm2) planar perovskite solar cells.
Their findings highlight the importance of phase transition for future printing designs and provide a rational path towards optimization of printed devices.
The research was supported by the National Key Research and Development Program of China, National Natural Science Foundation of China, National University Research Fund, the 111 Project, and the Chinese National 1000 Talents Plan program.