The acid-base catalysis plays a key role in the efficient use of fossil fuels and the conversion of biomass.
A research team led by Dr. WANG Feng in Dalian Institute of Chemical Physics (DICP) of the Chinese Academy of Sciences (CAS) is devoted to the research on structure tuning of metal oxides and their catalytic mechanisms, especially the acid-base catalysis.
The researchers found that the oxygen vacancies could act as water-tolerant Lewis acid sites, which catalyzed the synthesis of 1, 3-diol from propylene efficiently (J. Am. Chem. Soc.). In addition, they also found that the concentration of oxygen vacancies can be tuned by doping, which could enhance the catalytic activity in water (ACS Catal.).
Based on the above work, researchers recently discovered that the interfacial Lewis acid-base pair, which was consisted of acidic Ce-Vö (oxygen vacancy) site and basic interfacial oxygen of Ru-O-Ce linkage, could act as active sites for the dissociation of methanol and the subsequent transfer of proton.
The methoxycarbonylation over Ru-clusters/ceria realized the synthesis of methyl propionate from ethylene, CO and methanol without the addition of mineral acids that were used in the homogeneous systems.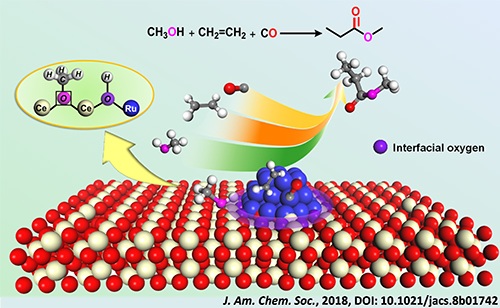 The acid-promoter-free methoxycarbonylation to synthesize methyl propionate from ethylene, CO and methanol over Ru-clusters/ceria. (Image by WANG Yehong and AN Jinghua)
Their findings were published in J. Am. Chem. Soc..
This work was supported by the National Natural Science Foundation of China, Strategic Priority Research Program of the CAS and DICP.