Arsenic is a ubiquitous but carcinogenic element in the land surface. An amazing fact on arsenic is its speciation, or in common words, existing forms, which have fantastical varying properties in environmental media and toxicological effects on biological organisms. Some are in high mobility and extremely toxic, like inorganic arsenite, while some are almost non-toxic to organisms, like organic form as arsenobetaine in fish and shrimps.
The marine organisms seem to convert arsenic from other organic forms in lower grade into arsenobetaine in higher grade, which is supposed to be involved in some biological functions like counteraction to high salinity stress to organisms living in sea waters. However, little is known on arsenic cycle and bioconversion in terrestrial organisms.
A research group led by Prof. WEI Chaoyang from the Institute of Geographic Sciences and Natural Resources Research (IGSNRR) of the Chinese Academy of Sciences has enhanced the basic knowledge on arsenic cycle and bioconversion in terrestrial ecosystems.
By sampling of soils-plants-plant litter-earthworms in the vicinity of a closed arsenic mine in Shimen County, Hunan Province, China, the researchers gained further understanding of arsenic cycle and bioconversion in terrestrial ecosystems. In the paper published recently in Science of the Total Environment, the researchers made detailed comparisons of arsenic variation forms in various environmental and biological samples.
They found a clue that some lower grade of organic arsenic like methylated forms can be converted to higher grade organic arsenic like arsenobetaine by earthworms in their bodies.
This fact indicated that terrestrial and marine organisms may have common mechanisms in arsenic bioconversion, however, the potential biological functions of arsenobetaine in earthworms remain unknown, like the state in marine organisms.
Another investigation on wild passerine birds conducted by the same research group found abnormal high arsenic levels in the feathers and gastric contents of the birds.
The findings were published in Chemosphere. They pointed out that arsenic mining activities, although had been closed for 15 years, still produced significant impact on the local terrestrial ecosystem, as evidenced in the birds, the organisms at the top level of the food web in the mining area.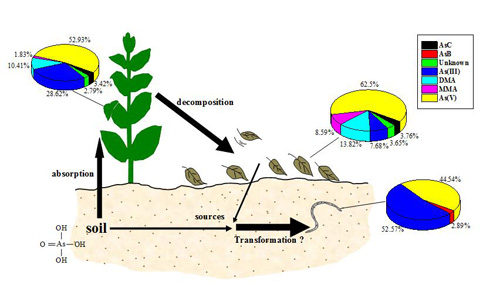 A diagram showing arsenic cycle in a soil-plant- litter-earthworm system. (Image by YANG Fen)