Scientists from Xinjiang Institute of Ecology and Geography and two Chinese universities have recently completed an eight-day survey on snow cover in mid-range of the Tianshan Mountains.
The survey, as a part of the national basic resources survey project of China's Ministry of Science and Technology, covers an area of 18 cities and counties in Xinjiang, and focuses on the characteristics and distributions of snow cover in its accumulating phase.
Scientists travelled over 2400km to carry out survey on all key landforms in the area, including cropland, sand dunes, grassland, wood land and bare land.
Maximum depth of snow cover in snow accumulating phase occurred in the Kunes River Valley, with an average depth of 45cm. Hazard of snow drift showed a rather serious tendency in certain areas, the survey found.
The survey is expected to provide reliable and comprehensive snow cover characteristic information for remote sensing inversion and classification of snow cover. General survey will help enrich snow cover data, and thus provide better service for climate change study, water resource management, and snow disaster forecast.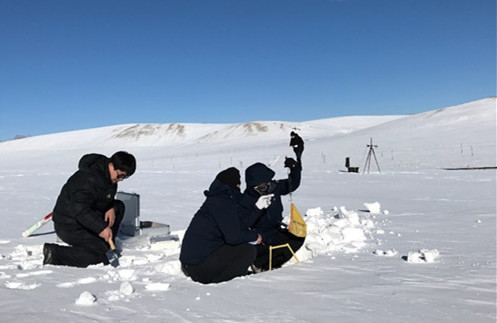 Snow Survey in Mid-Range of Tianshan Mountains(Image by XIEG)