Sacha Inchi (Plukenetia volubilis L.) is a perennial oilseed woody liana belonging to the Euphorbiaceae family. In recent years, a disease characterized by root and basal stem rot, growth retardation, wilt, leaf yellowing, and eventually plant death has been observed in Sacha Inchi fields in the Xishuangbanna Prefecture of Yunnan Province in southwestern China, where the plant was introduced from South America in 2006. The disease spreads rapidly with increasing plant age, and the incidence rate exceeds 50% in plants grown for more than three years.
Prof. XU Zengfu and his research team from Xishuangbanna Tropical Botanical Garden (XTBG) of the Chinese Academy of Sciences conducted a study to incubate and identify the disease, aiming at preventing it and improving the production of Sacha Inchi, an important oil crop.
The researchers collected diseased samples from the discolored vascular tissues of stems and roots and then surface-sterilized, transferred to potato dextrose agar (PDA) plates, and incubated at 30°C for 3 days in darkness. Hyphal tips from the leading edge of each colony were then transferred to new PDA plates and further incubated for 6 days to obtain pure cultures.
The mycelia appear floccose and are initially white but change to pale violet with growth. Macroconidia are long, straight or slightly curved, and usually 3-septate. Microconidia are oval- or kidney-shaped, and usually 0 or 1-septate. The chlamydospores are smooth and nearly round.
DNA sequencing of the PCR products of the internal transcribed spacer (ITS) region revealed 100% nucleotide identity with Fusarium oxysporum. The sequence of the translation elongation factor 1-alpha (EF1-α) gene (MF197315) was 99% identical to F. oxysporum (KU361427).
The inoculation experiments were repeated three times with similar results. Furthermore, F. oxysporum was re-isolated from inoculated plants but not from asymptomatic plants or non-inoculated controls, and it satisfied Koch's postulates.
The study is the first report of F. oxysporum causing root and basal stem rot of Sacha Inchi in China.
The study entitled "First Report of Root and Basal Stem Rot in Sacha Inchi (Plukenetia volubilis) Caused by Fusarium oxysporum in China" has been published online in Plant Disease.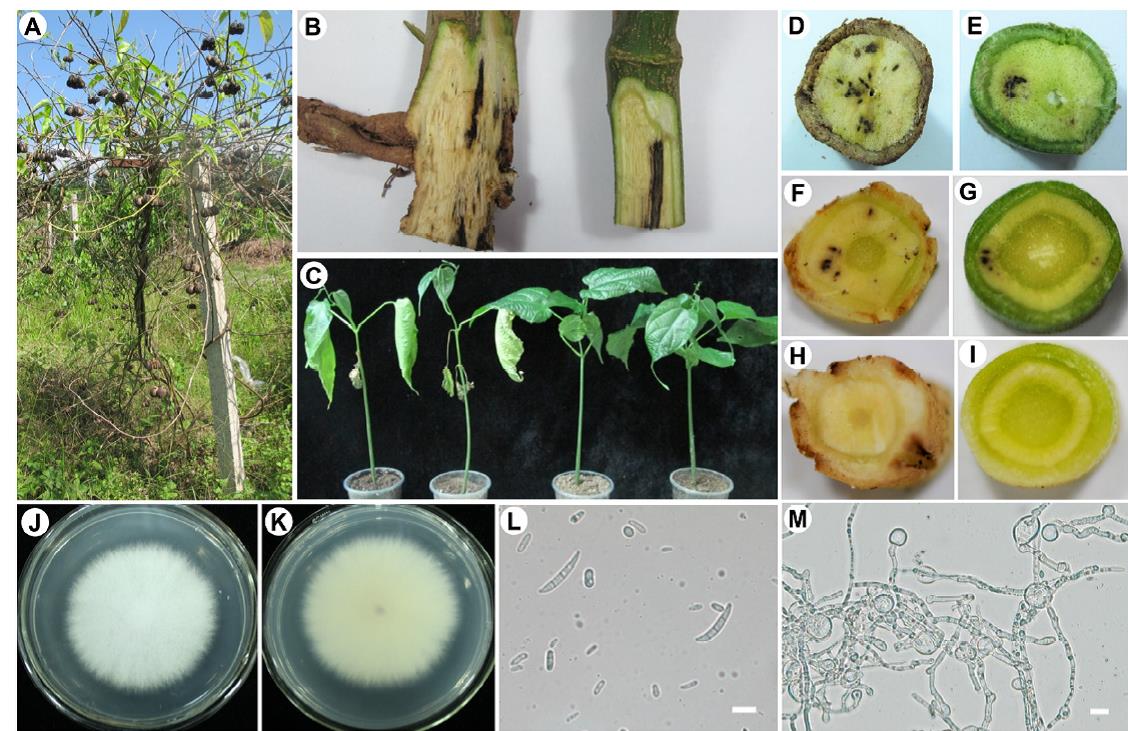 Disease symptoms of root and basal stem rot of Sacha Inchi (Plukenetia volubilis) and morphology of Fusarium oxysporum isolate FoPvol. (Image by CHAI Xia)