Glioma is the most common type of primary brain tumor in adults and is associated with poor prognosis. Patients with tumors harboring mutant p53 (over 30% of cases) show therapeutic resistance and especially poor outcome. Mutations in p53 are linked to increased cell survival and growth, decreased apoptosis, and drug resistance. Therefore, it is urgent to reveal the underlying mechanisms in the development and progression of p53-mutant glioma.
A study team led by Prof. FANG Zhiyou and Dr. CHEN Xueran in the Center of Medical Physics and Technology (CMPT), Hefei Institutes of Physical Science, identified a novel mechanism through which mutant p53 drives cancer cell survival and malignant growth.
Dysregulation of DHHC family proteins contributes to cancer development. The gene encoding zinc finger DHHC-type-containing (ZDHHC)5 is located in a region of chromosome 11q12.1 associated with a high rate of chromosomal translocation and variation, which has been linked to the development of various cancers.
Prof. FANG Zhiyou, Dr. CHEN Xueran and their coworkers analyzed the relationship between ZDHHC5 and p53 in human glioma specimens, glioma cell lines, and glioma stem cell cultures. They also examined the significance of this interaction with respect to the malignant progression of gliomas.
Through the study, they found that overexpression of the zinc finger protein ZDHHC5 in glioma compared to normal brain tissue and that this event to be tightly correlated with p53 mutations.
Mechanistic investigations revealed that mutant p53 transcriptionally upregulated ZDHHC5 along with the nuclear transcription factor NF-Y.
These events contribute to the development of glioma by promoting the self-renewal capacity and tumorigenicity of glioma stem-like cells, by altering the palmitoylation and phosphorylation status of the tumor suppressor EZH2.
Taken together, these work highlights ZDHHC5 as a candidate therapeutic target for management of p53-mutated gliomas.
This study entitled EZH2 palmitoylation mediated by ZDHHC5 in p53 mutant glioma drives malignant development and progression was published online in Cancer Research.
The study team expresses thanks to Prof. HAO Aijun for technical assistance in Key Laboratory of the Ministry of Education for Experimental Teratology, Department of Histology and Embryology, Shandong University School of Medicine. And this work was supported by grants from the National Natural Science Foundation of China and Anhui Provincial Nature Science Foundation.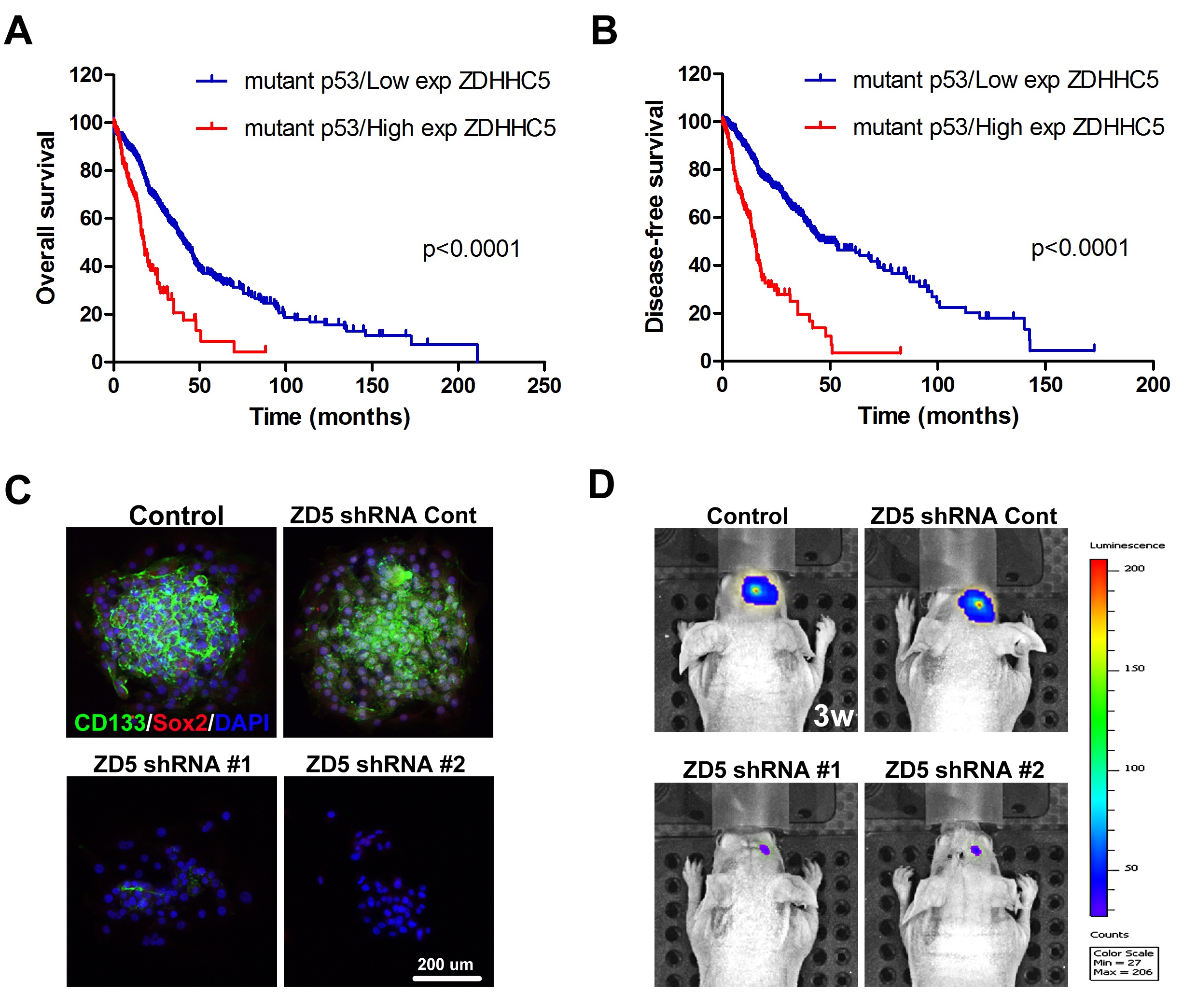 The role of ZDHHC5 in the development and progression of p53-mutant glioma. A and B, the disease-free survival and cumulative overall survival of p53 mutant glioma patients with high or low ZDHHC5 expression levels (based on median ZDHHC5 levels) estimated using the Kaplan–Meier method and compared by the log-rank test in the same set of patients. C, the expression of stem cell markers CD133 and Sox2 in p53 mutant glioma stem cells (GSCs) transfected with indicated lentiviruses for three days were analyzed by immunofluoresence staining. D, nude mice were intracranially transplantated p53 mutant GSCs transfected with indicated lentiviruses (1×105) for 3 weeks. Photon measurement around the tumor area showed by in vivo imaging system. (Image by CHEN Xueran)