Benthic diatoms are sensitive to the changes of the ambient environment, therefore, they have been regarded as bioindicators to aquatic environment. Also, other features, such as easy collection, render benthic diatoms parameters routinely to be monitored in water quality monitoring pragrammes. However, most diatom-based indices were developed in Europe which haven't been used or tested in other continents including Asia or Oceania.
Dr. TAN Xiang from Wuhan Botanical Garden of the Chinese Academy of Sciences compared the performance of fourteen widely-applied diatom indices in assessing ecological conditions in subtropical streams in South East Queensland (SEQ) in Australia and in the upper Han River in China.
In the upper Han River, except for Index Diatom Artois-Picardie and Trophic Diatom Index, most water quality parameters in the upper Han River, such as dissolved organic carbon (DOC), were correlated to at least one diatom index. However, in SEQ, most of the water quality variables including DOC and ammonia nitrogen (NH4-N) had no correlation with any diatom indices.
Most diatom indices in the upper Han River performed as well as in the region where the diatom index originally built. That's because nutrient and organic matter pollution was relatively high and variation in pH low, which was similar to the regions where the diatom index originally developed.
In contrast, the indices performed poorly in SEQ rivers, where the water quality gradient was low and instead most diatom indices responded strongly to spatial variation in pH. Therefore, it should be cautious to verify the effectiveness of the diatom index before it was used in other regions.
This research was supported by the National Natural Science Foundation of China, the QCAS Bio-technology Fund and the postgraduate scholarship support from Griffith University, Australia. Relevant results were published in Frontiers in Microbiology online entitled "Benthic diatom based indices for water quality assessment in two subtropical stream".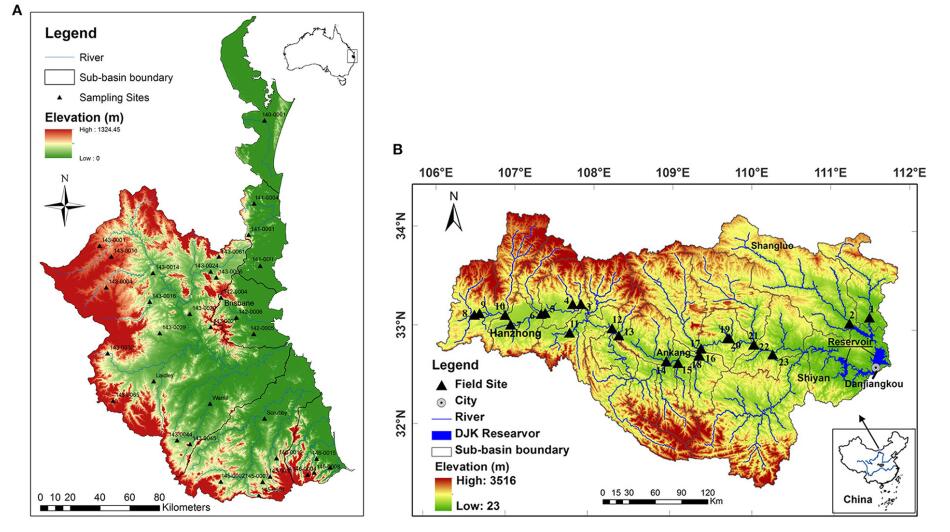 The location of sampling sites in streams in SEQ (A) and in the upper Han River basin (B) (Image by TAN)

The dominant species and their relative abundance (RA) in SEQ and the upper Han River (uHR) (relative abundance refers only to the Bacillariophyta; site number is 34 in SEQ and 23 in uHR) (Image by TAN)