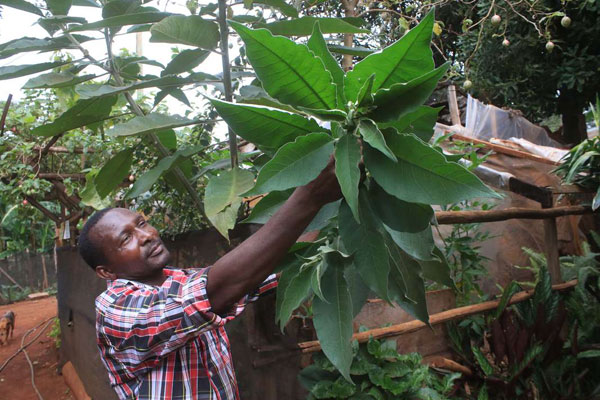 George Wang'ombe displays bitter leaf plant in his farm in Nyeri on February 20, 2017. Scientists will start documenting all plant species. PHOTO | JOSEPH KANYI | NATION MEDIA GROUP
Kenya will rewrite the plant life database in a series of books documenting and categorising in detail more than 7,000 plant species.
The project which includes exploration, identification, and collection of samples of the different plant species, their cataloguing and photography is expected to be completed in the next 10 years.
"We have received Sh300 million from the Chinese government for the exercise, which will be undertaken in a collaboration between the National Museums of Kenya, SINO-Africa Joint Research Centre, Chinese Academy of sciences and other research organisations," Dr. Geoffrey Mwachala, chief of research at the National Museums of Kenya, which is leading the exercise, said.
Speaking at the opening of the week long 21st Association for the Taxonomic Study of the Flora of Tropical Africa congress in Nairobi, Dr. Mwachala - a botanist - said all the species will be illustrated with maps and photographs.
And that the data will be availed as an online resource.
The congress has brought together more than 300 plant scientists from around the globe.
"It is a massive undertaking that will place Kenya in the same league as some of the countries around the world to have documented their countries' plant biodiversity," he added.
BIODIVERSITY
The venture was last undertaken in the 1930s.
The activity will see scientists capture data on previously unknown plants.
Prof. Qing-Feng Wang, director of Chinese Academy of Sciences, said Kenya is in a race against time to complete the exercise due to factors such as habitat fragmentation, industrialisation and climate change that are affecting biodiversity.
"It is very important because some of these are sources of food, medicine and raw material resource.
"It is high time Kenya had an investigation of the plant diversity, because we are fast losing the rare and endangered species," he said.
Although the compilation ought to have been done continuously over the years, lack of funding had stood in its way, Dr. Mwachala said. (Daily Nation)