Recently, a study team led by Prof. FANG Xiaodong from Anhui Institute of Optics and Fine Mechanics (AIOFM), Hefei Institutes of Physical Science, joined hands with Prof. MA Mingming' study team at School of Chemistry and Materials Science, University of Science and Technology of China (USTC), designed and synthesized a series of outstanding polyol-polypyrrole (polyol-PPy) composites by imitating animal dermis' structure, which is inspired by bionic concept.
Polypyrrole (PPy) as one member of organic conducting polymer family has been in spotlight due to its applications as organic electronic components such as sensors, electrodes, actuators and so on. Although years of efforts have been devoted to improving the mechanical and conductive properties of PPy film, limitation still exists in practical requirements for flexible electronics.
Therefore, a general method to generate strong, tough, and highly conductive PPy remains in need and even as a challenge.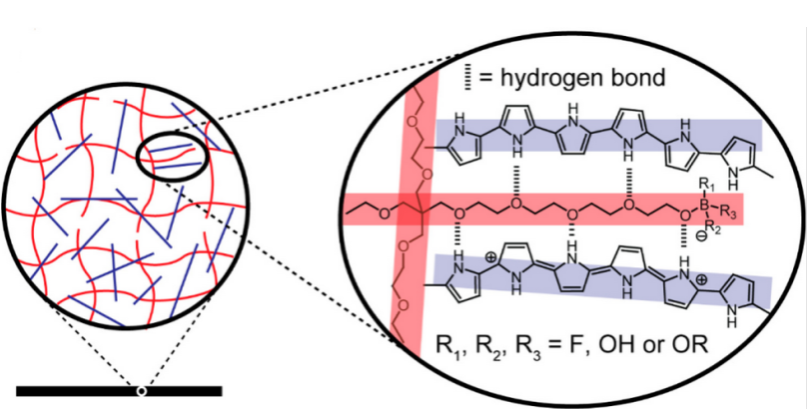 Structure design of polyol-PPy composites. (Image by GAO Fengxian)
In their work, through the cross-linking effect based on hydrogen bonding and electrostatic interactions, polyols and polypyrrole are cross-linked to form a dynamic network, which effectively helps to dissipate destructive energy.
As a result, the materials' strength and toughness is largely improved. The composites' performance is greatly superior to traditional polypyrrole.
Besides, doped with tetra-armed polyethylene glycol (PEE), the PEE-PPy film owns the excellent performances.
The tensile strength is as high as 125 MPa, and the elongation-at-break is about 75%. Its tensile toughness is 73 MJ/m3, which is superior to natural cocoon silk (70 MJ/m3).
Additionally, the PEE-PPy film has high conductivity, which is 115 S/cm.

Tensile toughness and stress-strain curves of polyol-PPy composites. (Image by GAO Fengxian)
Excellent mechanical properties and conductivity make this flexible polymer composite high applicable in flexible electronic devices.
The results have been published in the journal of ACS Applied Materials & Interfaces with the title of "Bioinspired Design of Strong, Tough, and Highly Conductive Polyol-Polypyrrole Composites for Flexible Electronics".
This work is in part supported by the National Natural Science Foundation of China and the Natural Science Foundation of Anhui Province.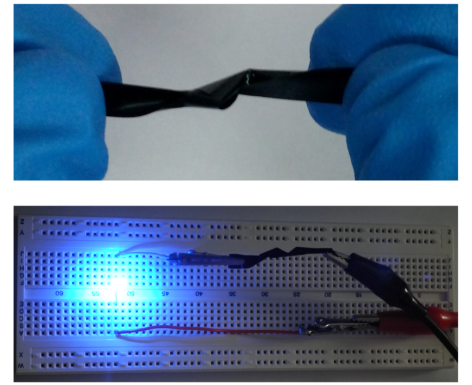 Flexibility and conductivity of PEE-PPy film. (Image by GAO Fengxian)