China's first manned fuel cell aircraft powered by 20kW proton exchange membrane fuel cell (PEMFC) recently completed its maiden flight in Northeast of China, meaning a breakthrough in domestic aviation fuel cell technology and also making China the third country with such technology after the United States and Germany.
This manned flight further confirms that fuel cell power supply system not only shows good safety and reliability, but also demonstrates excellent storage, start up and output performance at -20oC.
Fuel cell has become an important direction of new energy technology for its efficient and environment-friendly power generation capability. It can be widely used in power supply, distributed power station, and mobile power. Fuel cell has drawn the attention of international research on the application in aircraft due to its low noise, zero pollution and long battery life.
The 20kW PEMFC served as power supply was developed by proton exchange membrane fuel cell research team in Dalian Institute of Chemical Physics (DICP). After a two-year-long research, key technical issues such as efficient water management, heat management, high security and high reliability were solved successively. The power system completed a series of test including ground joint, environmental adaptability and high speed performance.
Previously, the research team has developed 10kW level type-I, type-II and type-III aviation PEMFC power system, which fills the gap in this field. Among them, type I system was applied in China's first fuel cell powered airship, "Zhiyuan No. 1" in November 2009; type II system was used in China's first fuel cell unmanned aerial vehicles, "Thunderbird" in July 2012; type III system served as tail driving force of the airship, which completes the high altitude environmental adaptability test.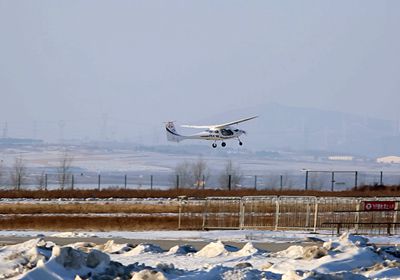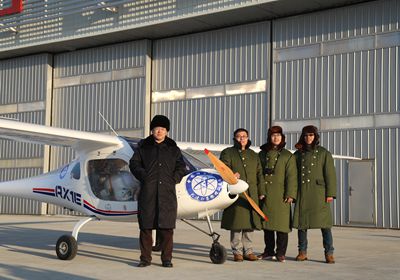 China's First Manned Fuel Cell Aircraft (Imaged by LIU Da and ZHOU Li)