Almost all Gastrointestinal stromal tumors (GISTs) express cKIT kinase and about 80-85% of all GISTs cases are associated with gain-of-function mutations in the cKIT gene.
Under physiological conditions, cKIT kinase gets activated upon binding of the extracellular stem cell factor. And constitutive activation of the cKIT kinase is critical in the pathogenesis of GISTs. The cKIT kinase inhibitor Imatinib as the current first-line therapy for advanced GIST, usually was very effective in the beginning of the treatment.
However, after several months it would induce drug resistance, which was due to the gatekeeper mutation T670I of the cKIT kinase most of the time.
Recently, a study team led by Prof. LIU Qingsong and LIU Jing at High Magnetic Field Laboratory, Chinese Academy of Sciences (CHMFL) reported their new progress on developing type II cKIT kinase inhibitors for GISTs, which overcomes the drug resistance mutant T670I.
In order to solve this resistance problem, the research team employed a structure based on drug design approach and successfully discovered a new type II cKIT kinase inhibitor (CHMFL-KIT-8140), which potently inhibited both cKIT wt (IC50: 33 nM) and cKIT gatekeeper T670I mutant (IC50: 99 nM) as well as displayed strong anti-proliferative effect against GISTs cancer cell lines GIST-T1 (cKIT wt, GI50: 4 nM) and GIST-5R (cKIT T670I, GI50: 26nM).
In the cellular context it strongly inhibited c-KIT mediated signaling pathways and induced apoptosis. In the BaF3-TEL-cKIT-T670I isogenic cell inoculated xenograft mouse model, CHMFL-KIT-8140 exhibited dose dependent tumor growth suppression efficacy and 100 mg/kg dosage provided 47.7% tumor growth inhibition (TGI) without obvious toxicity.
CHMFL-KIT-8140 would be a useful pharmacological tool to dissect the cKIT T670I mutant mediated pathology.
The results entitled Discovery of N-((1-(4-(3-(3-((6,7-dimethoxyquinolin-3-yl)oxy)phenyl)ureido)-2-(trifluoromethyl)phenyl)piperidin-4-yl)methyl)propionamide(CHMFL-KIT-8140) as a Highly Potent Type II Inhibitor Capable of Inhibiting the T670I "Gatekeeper" Mutant of cKIT Kinase were published in Journal of Medicinal Chemistry.
The study team has applied China's patent and PCT. And this research was supported by China "Thousand Talent Program", "Hundred Talent Program" of the Chinese Academy of Sciences and the National Natural Science Foundation of China.

Chemical structure and biological data of CHMFL-KIT-8140 (Compound 35) (Image by LI Binhua)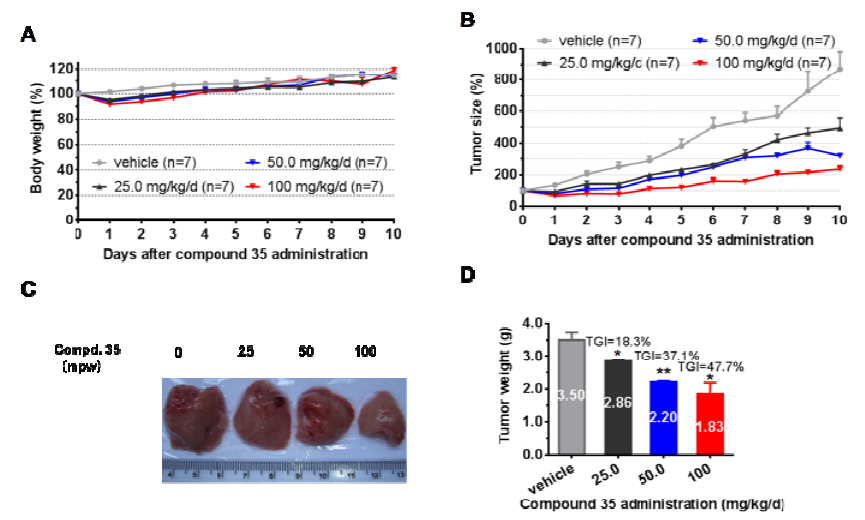 The effect of CHMFL-KIT-8140 to BaF3-TEL-cKIT-T670I (Image by LI Binhua)