Have you ever thought that one day your watchband might have energy storage function and be the battery of your smart watch as well?
The study conducted by YAN Xingbin's group at the Lanzhou Institute of Chemical Physics (LICP) of Chinese Academy of Sciences will give you a definite answer "yes".
The researchers, for the first time, developed a strategy to integrate energy storage device with watchband. They prepared watchband-like supercapacitors using rGO/CCP/TNA as the negative electrode, MnO2/Ni film (MNF) as the positive electrode, and gel electrolytes as the separator.
To see whether the supercapacitors can meet energy and/or power demands for the smart watches, they have tested their performance by statical and dynamical bending tests.
The results showed that the supercapacitor has excellent mechanical and electrochemical performance reliability, which means it has long service life and good safety performance.
Moreover, the supercapacitor also exhibits distinctive shape memory ability, that is it "remembers" its original shape and when deformed returns to its pre-deformed shape when heated.
Researchers connected the watchband-like supercapacitor with an electronic watch to show its potential application. Interestingly, this "watchband" can not only support power to the watch, but also can maintain the shape memory property which is automatically induced by touching human wrists.
The study makes such watchbandlike supercapacitor attractive for the next-generation smart watches with satisfactory energy supply ability and temperature inducible automatic bending capacity.
This design can also be used for the fabrication of other smart electrochemical energy storage devices boasting dual functions of energy support and shape memory.
This study has been published in Advanced Energy Materials.
This work is support by the National Natural Science Foundation of China and the LICP of Chinese Academy of Sciences.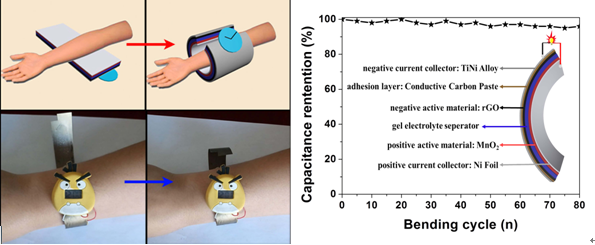 Figure: Shape memory asymmetric supercapacitor with distinctive shape memory ability and excellent electrochemical performance reliability during bending process (Image by YAN Xingbin et al.)