Solar energy has been the spotlight as the most promising candidate for addressing the challenges of fossil fuel shortage and environment pollution issues. Due to the intermittent nature of sunlight, solar energy utilization via photovoltaic devices meets with insurmountable limitation in practical applications. Converting solar-electricity into chemical energy stored in external or integrated electrochemical energy storage devices may address the above issue.
However, an energy-wasting long transfer pathway of "solar→electricity→chemicals→electricity" is still involved taking no account of their complicated structures and high cost of embedded photovoltaic cells. Therefore, it is highly desirable to develop a device with simplified processes for the simultaneous conversion and storage of solar energy. Solar rechargeable flow cells (SRFCs) provide an attractive approach for in-situ capture and storage of intermittent solar energy via photoelectrochemical regeneration of discharged redox species for electricity generation. However, overall SFRC performance is restricted by inefficient photoelectrochemical reactions.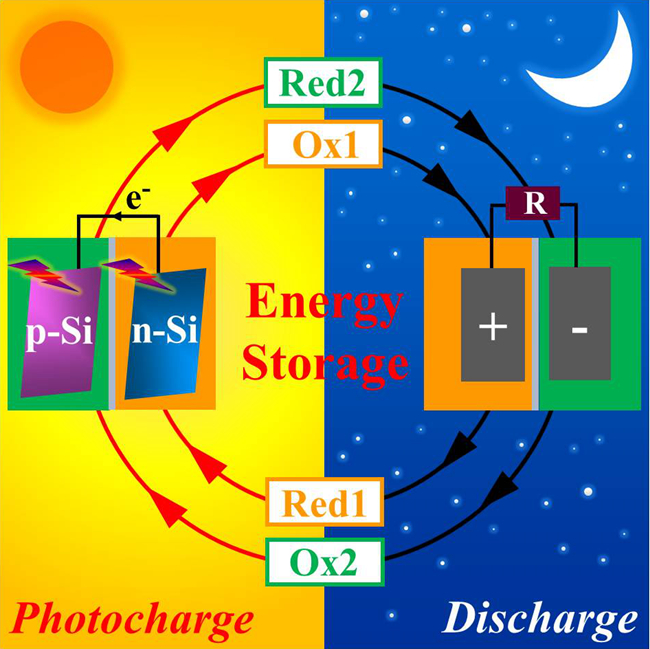 Researchers Develop a Solar Rechargeable Flow Cell for in-situ Solar Energy Capture and Storage (Image by LIAO Shichao and SHI Jingying)
Dalian Institute of Chemical Physics (DICP) and Dalian National Laboratory for Clean Energy (DNL) research teams led by Prof. LI Can, Dr. SHI Jingying and Prof. CHEN Jian designed and fabricated a state-of-art SRFC for in-situ solar energy capture and storage.
The efficient SRFC is based on a dual-silicon photoelectrochemical cell and a quinone/bromine redox flow battery. Using narrow bandgap silicon for efficient photon collection and fast redox couples for rapid interface charge injection, the device shows an optimal solar-to-chemical conversion efficiency of 5.9%. It also exhibits an overall photon-chemical-electricity energy conversion efficiency of 3.2%. The proposed SRFC can be self-photocharged to 0.8 V and delivers a discharge capacity of 730 mAh-1.
This work demonstrates aqueous SRFCs with good overall efficiency, high discharge voltage and desirable discharge capacity, and suggests paths for further improvements to allow technological development and use.
The research result was published in Nature Communications. (DOI:10.1038/ncomms11474).