DNA methylation, one of important epigenetic markers, has shown broad-ranging functions. In plants, DNA methylation generally refers to three different nucleotide sequence contexts: symmetric CG and CHG methylation and asymmetric CHH methylation (where H = C, T or A). Evidences demonstrate that DNA methylation plays a crucial role in the control of seed development and seed size.
Investigations on genomic DNA methylation in the seeds of Arabidopsis, rice and maize revealed extensive hypo-methylation in the endosperm genome. The active DNA demethylation in Arabidospsis depends upon activity of the DNA glycosylase including DME, ROS1, DML2/3, which is able to recognize and remove methylated cytosines by a base excision-repair pathway. However, the mechanism about how the extent and pattern of DNA methylation is established and whether the extent and pattern of DNA methylation is conserved in plant seeds are largely unclear.
Prof. LIU Aizhong and his colleagues at the Kunming Institute of Botany (KIB) of Chinese Academy of Sciences comprehensively dissected the genomic DNA methylation in castor bean seeds. Unexpectedly, they discovered a novel genomic DNA methylation profile that the CHH methylation extents in endosperm and embryo were substantially higher than known plants, irrespective of the CHH percentage in their genomes.
Castor bean (Ricinus communis L.), a member of Euphorbiaceae family, has relatively large and persistent endosperm throughout seed development. It is an ideal model plant to dissect the potential mechanism underlying seed genomic DNA methylation arises and their biological interests with seed development in dicots.
The research revealed that the endosperm exhibits a global reduction in the CG and CHG methylations relative to the embryo, markedly switching the global gene expression. However, the CHH methylation occurring in endosperm does not exhibit a significant reduction. Combining with the expression of 24-nt siRNAs mapped within TE regions and genes involved in the RdDM pathway, it showed that the 24-nt siRNAs play a critical role in maintaining CHH methylation and repressing the activation of TEs in endosperm persistent development.
This study also exhibited a novel genomic DNA methylation profile occurring in dicot seeds with persistent endosperm, which gives new insights into understanding the genomic DNA methylation arising and its biological interests in plants.
This study has been published online in Plant Physiology.
The study is supported by the Chinese National Key Technology R&D Program (2015BAD15B02), National Key Basic Research Program of China (2014CB954100) and the National Natural Science Foundation of China (31501034).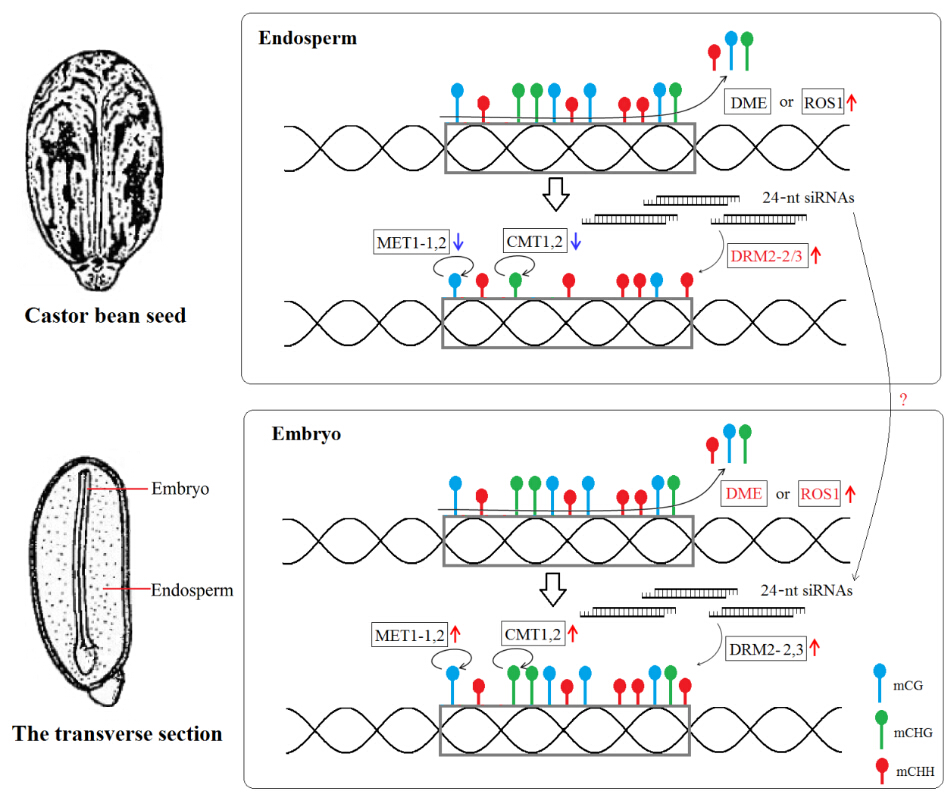 Figure: A proposed genomic DNA methylation pattern arising in castor bean endosperm and embryo (Image by KIB)