Inflammatory bowel disease (IBD) is an idiopathic intestinal disorder caused by a dysregulated immune response to intestinal microbes. The recruitment of leukocytes from the peripheral circulation to the gut mucosa plays a critical role in IBD. This process is facilitated by the interaction of integrin α4β7 and mucosal addressing cell adhesion molecule 1 (MAdCAM-1). Blocking the function of integrin α4β7 can suppress the migration of lymphocytes to the gut and consequently inhibit adaptive immune-mediated colitis. Clinically, a humanized monoclonal antibody that specifically blocks α4β7 function, vedolizumab, has been approved for the treatment of adults with UC and CD. Although vedolizumab effectively maintains clinical remission in some IBD patients in clinical studies, it is noteworthy that the aggravated colitis is observed in a proportion of UC patients after treatment. Thus, scientists speculated that blocking integrin α4β7 function can exacerbate IBD under certain conditions through an unknown mechanism.
Dr. ZHANG Hailong and ZHENG Yajuan led by Professor CHEN Jianfeng from the Institute of Biochemistry and Cell Biology, Shanghai Institutes for Biological Sciences demonstrate that integrin β7-deficiency results in colonic regulatory T (Treg) cell depletion and exacerbates DSS colitis by evoking aberrant innate immunity. In DSS-treated β7-deficient mice, the decrease in colonic Treg cells causes excessive macrophage infiltration into the colon via upregulation of ICAM-1 expression on colonic epithelial cells, and increases proinflammatory cytokine expression, which together results in the aggravated DSS-induced colitis.
Reconstitution of the colonic Treg cells in integrin β7-deficient mice by wile-type Treg cell transfer resulting in the attenuation of colonic inflammation. Thus, integrin α4β7 is essential to suppress DSS colitis by maintaining the Treg cell population and innate immunity in the colon. Therefore, blocking integrin α4β7 function will exacerbate colitis in some IBD patients.
The paper entitled "Regulatory T cell depletion in the gut caused by integrin β7 deficiency exacerbates DSS colitis by evoking aberrant innate immunity" was published in the July 29th issue of Mucosal Immunology.
This work was supported by grants from the Ministry of Science and Technology of China, the National Natural Science Foundation of China, the Chinese Academy of Sciences, and the Science and Technology Commission of Shanghai Municipality.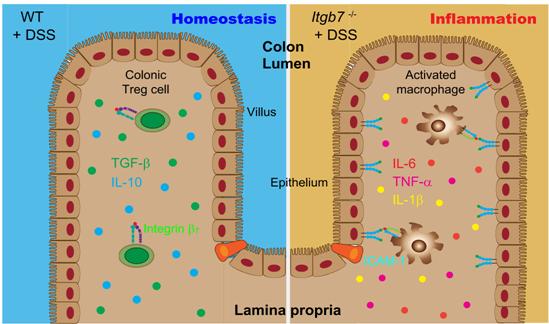 Fig. Loss of integrin β7 function causes colonic Treg cell depletion and exacerbates DSS colitis mainly by evoking aberrant innate immunity in Itgb7-/- mice. Reconstitution of colonic Treg cells in Itgb7-/- mice suppresses aberrant innate immune responses in the colon, thereby alleviating DSS colitis. (Image by Prof. CHEN Jianfeng`s group)
CONTACT:
CHEN Jianfeng, Principal Investigator
Institute of Biochemistry and Cell Biology, Shanghai Institutes for Biological Sciences, Chinese Academy of Sciences
Shanghai 200031, P. R. China
Phone: +86-21-54921142
E-mail: jfchen@sibcb.ac.cn