One of the most important events in vertebrate evolutionary history is the transition from water to land. As vertebrates transitioned to new terrestrial environments, the changes in the morphological and physiological characters were concurrent with the loss of specific genes in tetrapods. One of the most significant environmental changes between water and land is the oxygen levels. Previous researches mainly focused on the morphological description. However, the detailed molecular mechanisms underlying these transitions have not been well studied.
In order to explore vertebrate adaptation to different oxygen levels during the water-to-land transition, Prof. HE Shunping and his team from Institute of Hydrobiology (IHB) of Chinese Academy of Sciences, performed comprehensive analysis on the nicotinamide phosphoribosyltransferase (NAMPT) family members from their origin, characterization, evolution, expression and in particular their biofunction.
The researchers first found that the NAMPT family mainly consisted of two members (NAMPTA and NAMPTB) in vertebrates resulting from second round whole-genome duplications (2R). NAMPTA existed in all classes of vertebrates, whereas NAMPTB was only found in fishes and not tetrapods. NAMPTA and NAMPTB underwent functional divergence after duplication but were still conserved in the basic NAMPT activity. NAMPTA is conserved and essential for vertebrate embryo development, and NAMPTB is likely to act in a supporting role to NAMPTA.
The retention of NAMPTB in water-breathing vertebrates is an adaptation for fish to live in a low oxygen environment, and the loss of NAMPTB in air-breathing vertebrates may be an important process for tetrapod adaptation to the terrestrial oxygen environment. This study will increase the further understanding of the NAMPT family and help explore the molecular mechanisms underlying the adaptations of vertebrates in the transition from water to land.
The research finding was published online in FEBS Journal entitled "Analysis of the nicotinamide phosphoribosyltransferase family provides insight into vertebrate adaptation to different oxygen levels during the water-to-land transition". This work was supported by the Pilot Projects.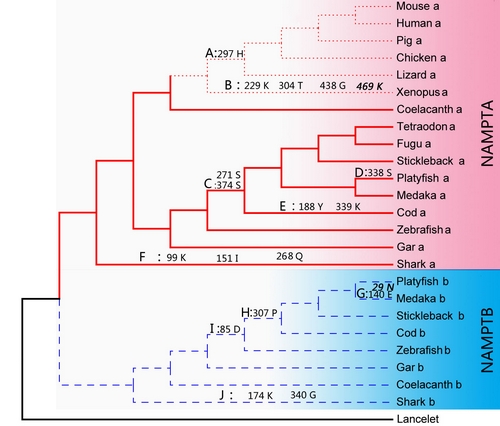 Figure 1: Phylogenetic tree of NAMPT used to test the roles of selection. (Image by IHB)

Figure 2: Morpholino-mediated knockdown of zebrafish NAMPTA and NAMPTB. (A) Efficiency and specificity of morpholinos. (B) Morphology of the NAMPTA knockdown embryos. (C) Zebrafish embryos were injected with morpholinos and mRNA and scored at 3dpf. (Image by IHB)