The Indian Ocean exhibits a robust warming since the 1950s, amounting to the order of 0.5ºC over the past 50 years, though the significant warming is not monotonic. Up to now, there is no consensus within the scientific community as to the pivotal physical mechanism responsible for the tropical Indian Ocean warming.
YAO Shuailei, HUANG gang, WU Renguang from the Institute of Atmospheric Physics examined the Tropical Indian Ocean inhomogeneous warming in observations and 16 CMIP5 models, and proposed that intrinsic ocean-atmosphere interaction within the tropical Indian Ocean is the key mechanism for maintaining the tropical Indian Ocean warming.
Over the tropical Indian Ocean, the observed warming trend has more than doubled since 1965, which is well simulated by the CMIP5 historical runs. However, as to spatial warming pattern, observations manifest a double-peak pattern during 1900-1940 and a non-uniform Indian Ocean Mode (IOBM)-like pattern during 1965-2005, which is not captured by the CMIP5 historical runs. The double-peak warming pattern can be explained well by a combination of GHG and natural forcing, and the non-uniform IOBM-like pattern is mostly attributable to anthropogenic forcing.
From the model perspective, during 1900-1940, the weak anti-symmetric atmospheric circulation with easterly (northwesterly) anomalies north (south) of the equator helps to sustain the double-peak warming pattern. During 1965-2005, the intensified anti-symmetric wind pattern is in favor of the non-uniform IOBM-like warming pattern.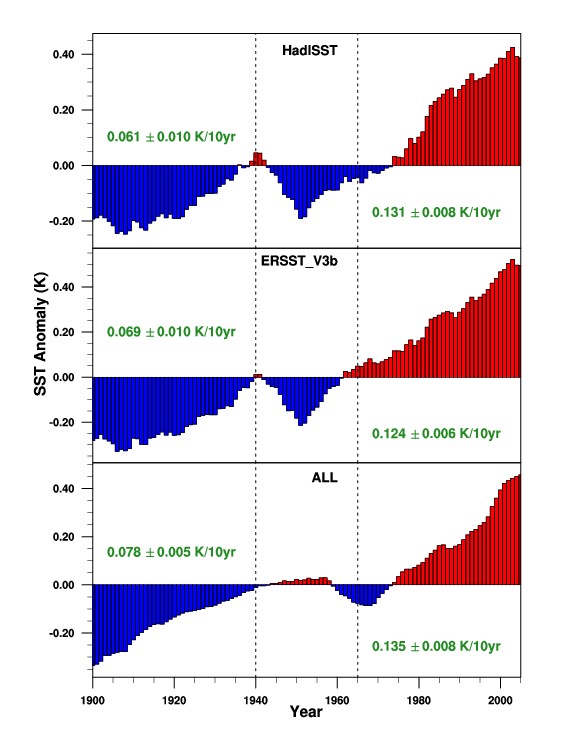 The tropical Indian Ocean shows inhomogeneous warming in the 20th century (Figure plot by IAP)
Reference:
Yao, S., L. , G. Huang*, R. Wu, X. Qu and D. Chen, 2015: Inhomogeneous warming of the Tropical Indian Ocean in the CMIP5 model simulation during 1900-2005 and associated mechanisms, Climate Dynamics, DOI: 10.1007 /s00382 -015 -2602-5.
Contact:
HUANG gang
State Key Laboratory of Numerical Modeling for Atmospheric Sciences and Geophysical Fluid Dynamics, Institute of Atmospheric Physics
E-mail: hg@mail.iap.ac.cn