Net primary production (NPP) is the total energy (or nutrients) accumulated by an ecological unit of interest (such as an organism, a population, or an entire community). NPP provides a comprehensive index which incorporates several key ecosystem processes, including photosynthetic production, respiration loss and carbon allocation. Knowledge of field-derived temporal dynamics of NPP is critical to validate, calibrate and provide mechanistic explanations of remotely sensed analyses of NPP. However, little is known about how NPP varies within a plot, especially in a Chinese dipterocarp forest.
Scientists from Xishuangbanna Tropical Botanical Garden (XTBG) of Chinese Academy of Sciences conducted a study to examine how and why partial net primary production (NPPpart) varies across time and space in a Chinese dipterocarp forest. The study took place in a 20-ha plot on the northern edge of tropical Southeast-Asia, in Mengla County, Xishuangbanna prefecture, Yunnan Province.
To explore temporal variation in NPP within testing natural conditions, the researchers calculated the NPP of the Chinese dipterocarp (Parashorea chinensis) dominated natural forest over three years (2010-2012). They attempted to fully quantify all aspects (including woody, canopy, fine-root, herbivore consumed NPP) of NPP for the forests of the region. They examined whether soil fertility and biomass could explain the within plot variation of NPP.
The researchers hypothesized that soil geochemistry explains the spatial pattern of NPP within the plot and NPP can be used to measure the degree of drought resilience of a natural forest. They analyzed the variability in water availability on the interannual dynamics of NPP and the role of soil physical and chemical factors and functioning on the spatial pattern in Xishuangbanna dipterocarp forest comparing the results with previous studies.
In Xishuangbanna dipterocarp forest, partial net primary production was significantly higher at lower elevations within the plot (i.e., streams) than in higher ones (i.e., ridges).
In the study, no difference of partial net primary production was observed in the year when a severe drought occurred. However, the partitioning of partial net primary production to biomass increment did change. In dry years, tree growth slowed down and the accumulation of dry matter in biomass reduced, which was offset by increased litterfall in the corresponding period.
The variogram analysis showed that partial net primary production was autocorrelated in the range of 75.3 m. It was poorly correlated with each soil property individually, thus soil properties cannot well explain the spatial pattern of net primary production directly. The major limiting factor on biomass increment in the dry-season is temperature, rather than water.
If drought sensitivity is defined by marked reduction in NPPpart, the studied forest is drought resilient even with a longer and drier than usual drought hit. Although annual NPPpart was unchanged after the drought, the allocation of NPPpart to short-lived litterfall increased, which has further effects on the ecosystem net carbon balance.
The study entitled "Partial net primary production of a mixed dipterocarp forest: Spatial patterns and temporal dynamics" has been published on Journal of Geophysical Research: Biogeosciences.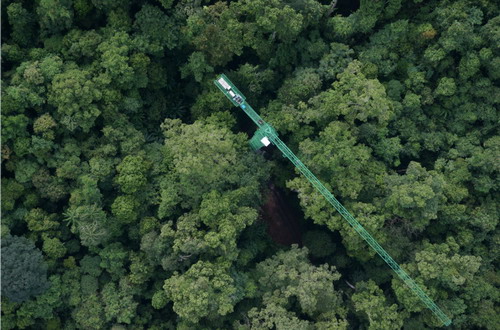 Figure: Dipterocarp forest in Xishuangbanna (Image by DENG Yun)