Hg (II) is the most toxic form among mercury species because it can be methylated by reducing bacteria in anoxic habitats and transformed into methylmercury (MeHg+ or Me2Hg). Methylmercury can be adsorbed by aquatic organisms and accumulated in the food web, resulting in the bio-magnification of Hg contamination through the food chain. Thus, removal of Hg(II) ions from water and wastewater becomes very important. 
Researchers from Xinjiang Technical Institute of Physics & Chemistry, Chinese Academy of Sciences (XTIPC), prepared a chitosan–poly(vinyl alcohol) hydrogel adsorbent by a glutaraldehyde cross-linking method in combination with an alternate freeze–thawed process.
Chitosan (CTS) is a nitrogen-containing biopolymer which contains plenty of amino and amide groups and shows excellent metal-binding capability and special adsorption selectivity for Hg(II) ions. Researchers found the as-prepared hydrogel adsorbent possesses a three-dimensional network structure with plenty of —NH2 groups, ―NHCOCH3 groups and C=N groups, it also has superior adsorption capacity and special adsorption selectivity for Hg(II) ions(Fig.1). According to compare with various heavy metal ions in the single-component solutions, the adsorption capacity for Hg(II) ions was 585.90 mg/g. However, the adsorption capacities were only 78.68, 32.12 and 13.16 mg/g for Cu(II), Cd(II) and Pb(II) ions, respectively(Fig.2). The great difference in adsorption capacity for different metal ions indicates the special adsorption selectivity of the hydrogel adsorbent for Hg(II) ions.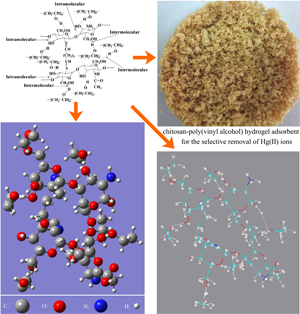 Fig.1 The adsorption selectivity for Hg(II) ions and its schematic structure (Image by XTIPC)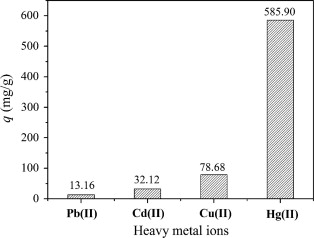 Fig.2 Adsorption capacities of the CTS–PVA hydrogel adsorbent for heavy metal ions (Image by XTIPC)
The CTS–PVA hydrogel adsorbent has some advantages such as facile preparation, desirable mechanical property and acid alkali-resistance, and superior adsorption capacity and selectivity, so it should be a promising adsorbent for Hg(II) removal from aqueous environment.
The result entitled "Selective removal of mercury ions using a chitosan–poly(vinyl alcohol) hydrogel adsorbent with three-dimensional network structure" has been published in Chemical Engineering Journal (Volume 228, 15 July 2013, pp 232–242).