Research to benefit brain disease diagnosis, treatment: expert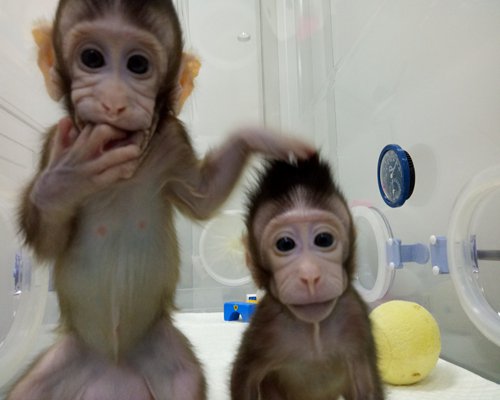 Cloned macaques Zhong Zhong and Hua Hua in a Shanghai lab on January 20. Photo: VCG
A brain science research park that focuses on the study of monkey cloning was launched on Wednesday in Shanghai to promote the industrialization of such technology.
The park, a project jointly developed by the Chinese Academy of Sciences' (CAS) Institute of Neuroscience and local government, will engage in research into non-human disease models, neurological intelligence technologies and medicine development.
The park also aims to promote the research and development of brain diseases based on the technologies used in monkey cloning, said Poo Mu-ming, the director of CAS' Institute of Neuroscience who collaborated on the work.
Research on monkey cloning will help diagnose and treat brain diseases, such as brain tumors. It could also help develop new medicines with the cooperation of global medical companies, said Poo.
Qiang Boqin, a scholar at the Chinese Academy of Medical Sciences, said that the establishment of the park will help researchers better utilize regional advantages to support research in brain science.
In January, the Institute of Neuroscience of CAS announced it had successfully cloned two macaques from somatic cells using the method that created Dolly, which is regarded as a breakthrough in brain science and non-human cloning.
However, it also sparked a heated debate on ethical standards.
In Europe and the US, animal protection groups who protest the use of non-human primates in scientific experiments misinterpret the contribution of non-human primate research to human society, said Poo. He stressed that research done in China is based on world-recognized standards, including nursing and facilities.
"The standards we are following to develop the monkey research platform is even stricter than those in Europe and the US," Poo said.
He added that the monkey cloning technology will also help reduce the use of monkeys in research, thanks to the same genetic background.
Poo added that the two cloned macaques named Zhong Zhong and Hua Hua are in good physical and mental health.
"They are now living with normal monkeys," he said.
The Shanghai park will also focus on brain science and intelligence technology to boost regional development and serve China's technological innovation plan. (Global Times)