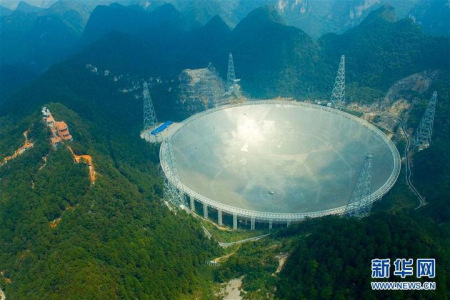 An aerial view of the Five-hundred-meter Aperture Spherical radio Telescope (FAST) in Pingtang County, Southwest China's Guizhou Province on Sept. 24, 2016, a day before the telescope's launch. (Photo/Xinhua)
Guizhou Province plans to build a data processing laboratory for China's Five-hundred-meter Aperture Spherical Radio Telescope (FAST), the world's largest single-dish radio telescope, local authorities said Tuesday.
The project will be co-launched by Guizhou Normal University and the National Astronomical Observatories.
"The tremendous amounts of data produced by FAST must be processed as information that scientists can understand," said Zhi Qijun, head of the university's school of physics and electronic science, and leader of the data processing lab project. "The lab's task is to process and analyze the data and conduct in-depth research."
Construction of the lab will last three years. It will recruit scientists and develop astronomical data processing and analysis software after it is built.
Located in a naturally deep and round karst depression in Guizhou, southwest China, FAST is believed to be the world's most sensitive radio telescope.
Its key tasks include observation of pulsars as well as exploration of interstellar molecules and interstellar communication signals. (Xinhua)