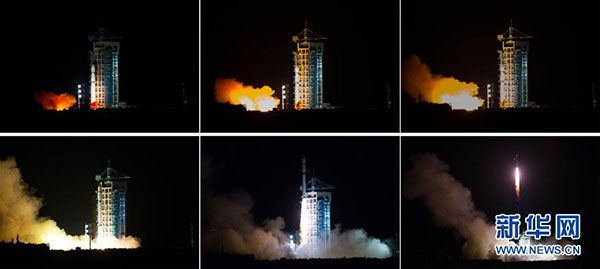 China successfully launched the world's first quantum satellite from the Jiuquan Satellite Launch Center in northwestern Gobi Desert at 1:40 am on Tuesday. (Photo/Xinhua)
The quantum communications network connecting Beijing and Shanghai, about 2,000 kilometers apart, recently passed the evaluation board's technology test. Beijing News comments:
The quantum communications network, the first of its kind in the world, is ready to be launched in China. Quantum communications technology allows two parties to share a message, which is encrypted using a secret "key" made of quantum particles such as polarized photons and the data are transferred at the speed of light.
Quantum communication is generally regarded as "unhackable", because if a third party tries to intercept the photons by copying the secret "key" as it transfers data through the network, the hacker will be immediately exposed because, according to the law of quantum mechanics, any interference will affect the behavior of the "key" that can be detected by dataflow monitors.
Quantum communications technology has developed at a rapid pace in recent years in the United States, European countries, the Republic of Korea and China. It is seen as the supporting technology for the next generation of telecommunications and computing technology.
China sent the world's first quantum communications satellite into the Earth's orbit in August last year and built the world's first optical quantum computer this May. The satellite can be used to transmit encoded data via quantum distribution.
The launch of the Beijing-Shanghai quantum communications network will mark China's transformation from a leading researcher in this field to the first user of the technology, giving it considerable advantage in the development of related technologies and industries.
China has made great progress in the advanced manufacturing industries, such as aerospace, nuclear power and high-speed railway, which will constitute its enterprises' core competitiveness in the global market. And if China maintains the momentum of this progress, the shift from "Made in China" to "Designed in China" will only be a matter of time. (China Daily)