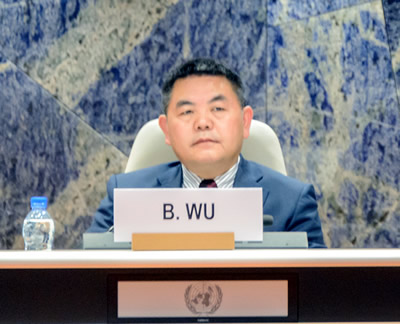 Q: Could you give us a brief introduction to the technology of remote sensing?
A: Actually remote sensing is a methodology that provides unique observation of the Earth's surface. Before, we used conventional measurements to obtain data from a few points but remote sensing can provide "wall-to-wall" measurements in the field, so it gives you more information to understand the dynamic changes on the ground at the Earth's surface.
Q: Could you tell us about your global crop monitoring system CropWatch?
A: We developed CropWatch for global users to monitor the crop situation all over the world. You see, food security is the essential issue for the human being. Food prices have been volatile over the past 10 years. One of the reasons is that people lack information on food productivity and people are nervous about the availability of food. There is sufficient food supply but people lack information. This gives rise to an opportunity to speculate on the market, which hurts human welfare. So we provide transparent, reliable information for the world, but particularly for China.
We use satellite and in-situ data to evaluate the global agro-climate situation to see how it affects global production and monitor cropping intensity and stress in different regions, monitoring disease and water supply and so on. We also monitor crop condition and production for 31 countries representing 80% of global grain production. This information can help developing countries to know what the situation is. We provide this information but also the methodology so that developing countries can use CropWatch the same as we do.