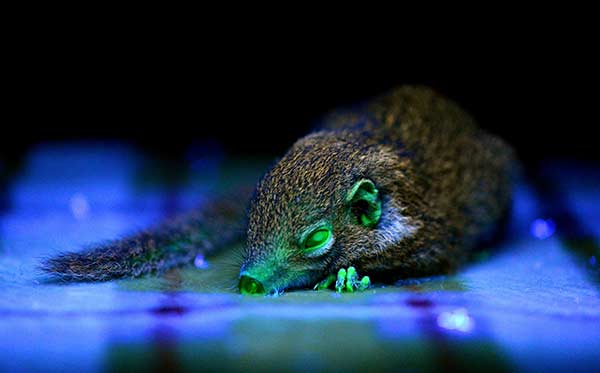 Experts at the Kunming Institute of Zoology in Yunnan province say they have found a way to produce genetically modified tree shrews, which could be used to find solutions to human health problems. Provided To China Daily
Chinese scientists have developed methods to make the world's first genetically modified tree shrews, paving the way for the production of "knockout" tree shrews for experimental use, according to research paper published by Cell Research, a monthly peer-reviewed scientific journal by the Nature Publishing Group.
The tree shrew, a small, fluffy mammal that looks like a squirrel, is an ideal laboratory animal because it shares a higher degree of similarities with humans than rats do. However, the species' timidity has prevented it from contributing to studies on human health.
"The tree shrew has a nervous system and an immune system that share many more similarities with primates, making it suitable for medical research on neurological diseases and infectious diseases," said Zheng Ping, a researcher at the Kunming Institute of Zoology affiliated to the Chinese Academy of Sciences, and an author of the research paper.
However, efforts to produce knockout tree shrews, which have a gene removed or replaced in order to change their appearance, behavior or other characteristics, have failed. "One reason lies in the lack of practical gene manipulation techniques," said Li Chaohui, a PhD student and another author of the research paper.
Scientists have little knowledge about the reproductive biology of the species, so it is difficult to take their embryonic stem cells or transplant genetically modified embryos into the womb.
"In addition, tree shrews are easily frightened. They have a stress response during surgery - sometimes resulting in death - that makes it almost impossible to impregnate them in such conditions," Li said.
Due to such circumstances, the team began experimenting with male tree shrews. They added cell surface markers into their spermatogonial stem cells, and if a particular gene was expressed, the skin pigment of the offspring of genetically modified tree shrews would appear green under ultraviolet light.
"The next step is to knock out a tree shrew's gene, such as a gene related to Alzheimer's disease, for research purposes," Zheng said. (China Daily)