On November 13, High Magnetic Field Laboratory of Chinese Academy of Sciences (CHMFL) achieved great success in the commissioning of the self-designed and self-built hybrid magnet which reaches its premier goal of 40-Tesla and becomes the second strongest steady field magnet in the world. The successful assembly of the two magnets and their reaching the full field of 40 Tesla pay off researchers' eight years of great efforts at CHMFL.
Hybrid magnet fuses two types of magnet-making technologies: superconducting and resistive. The 40 Tesla hybrid magnet is composed of a 30 Tesla resistive magnet nested in a 10 Tesla superconducting magnet outsert. The 30-Tesla "insert", a resistive magnet with a 32 mm room temperature bore developed by CHMFL, was tested and reached the goal of 30 Tesla central field by itself in September, 2016. The 10-Tesla "outsert", a superconducting magnet with a tremendous 920mm bore was tested and reached the goal of 10 Tesla on November 5, 2016.
High magnetic field is an extreme experimental condition to explore the frontiers of science. The higher the magnetic field, the more the opportunities to new discoveries. Therefore, the development of magnet science is inevitably on the way to produce stronger magnetic fields.
Hybrid magnet is currently the primary instrument to produce high steady magnetic fields. "We faced a series of technical challenges," said GAO Bingjun, the Chief Engineer at CHMFL, "for example, the optimal selection of materials and structures of the two magnets, the problem of huge electromagnetic force and severe overheating, the production technology, and the related cryogenic cooling technology. The high stability power supply system at ten million watt level is a major challenge by itself."
Additional difficulties lie in the seemingly simple assembly process, i.e. the perfect alignment of the central plane and magnetic axis of the two magnets. The misalignment of one millimeter will cause tons of interaction force between the two magnets. A miss is as good as a mile.
Nevertheless, CHMFL achieves great success in high field magnetic technology which used to be a weak point in China. It is reported that the newest magnet will be used mainly in quantum behavior research of new materials.
The 40 Tesla hybrid magnet is the last and strongest member among the nine magnets of CHMFL's Steady High Magnetic Field Facility (SHMFF) project of Chinese National 11th Five-Year Major Science and Technology Infrastructure.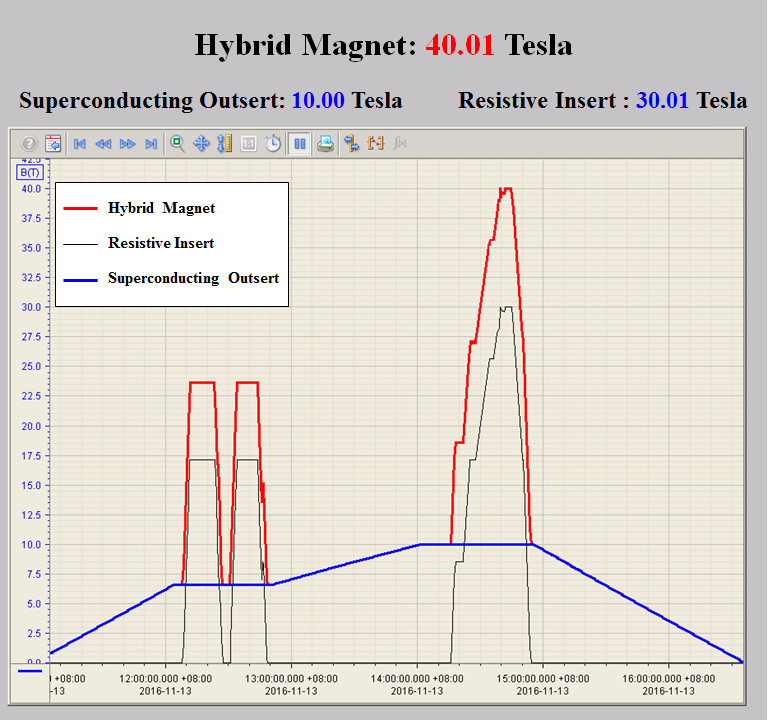 Test results of the 40T hybrid magnet (10T superconducting magnet outsert and 30T resistive magnet insert) (Image by ZHANG Jun)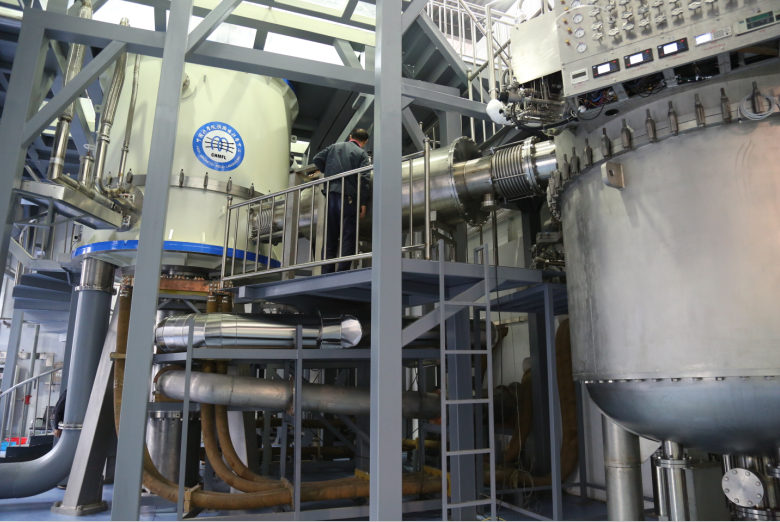 The Hybrid magnet (Image by SUN Ce)