Twenty national scientific and research organizations from countries and regions along the Belt and Road Initiative participated the "First International Science Forum of National Scientific Organizations on the Belt and Road Initiative" and issued a declaration establishing an alliance of international scientists to promote cross-border cooperation.
Kunming Institute of Botany, Chinese Academy of Sciences (KIB) and the Institute of Gene Pool of Plants and Animals (IGPPA) of Uzbekistan Academy of Sciences signed a Memorandum of Understanding on Nov. 7 in Beijing to renew cooperation between the two institutions.
Prof. SUN Hang, director of KIB and Dr. Tojibave Komil, director of IGPPA signed the MoU during their participation of the First International Science Forum of National Scientific Organizations on the Belt and Road Initiative in Beijing.
Both parties agrees to work together to explore the strategic relationships in research and development in field investigation and the complication of the Flora in Uzbekistan, construction of the biological resources and geographical distribution database in Central Asia. The two institutions will join hands to build an international molecular biology laboratory and economic botanical gardens, and to hold regular bilateral seminars, and short-term visits by researchers.
The first MoU between KIB and IGPPA was signed in 2013. Three years have seen a number of academic cooperation fruits, such as biodiversity field trip at Hengduan Mountains in the southwest China in May 2014, fungi specimens identification led by Prof. YANG Zhuliang at Uzbekistan in October 2015, Presentation on "Distribution pattern and State of Coenotic Population of Rare and Endangered Plants Species of Kyzylkum Desert" by Dr. Khabibullo Shomurodov in July 2016, and the "International Workshop on Biodiversity Conservation Planning of the Central Asia Region" organized by KIB and Xinjiang Institute of Ecology and Geography in August 2016.
The collaboration between both parties has been supported by Key Program for International S&T Cooperation Projects of China and CAS International Cooperation Research program.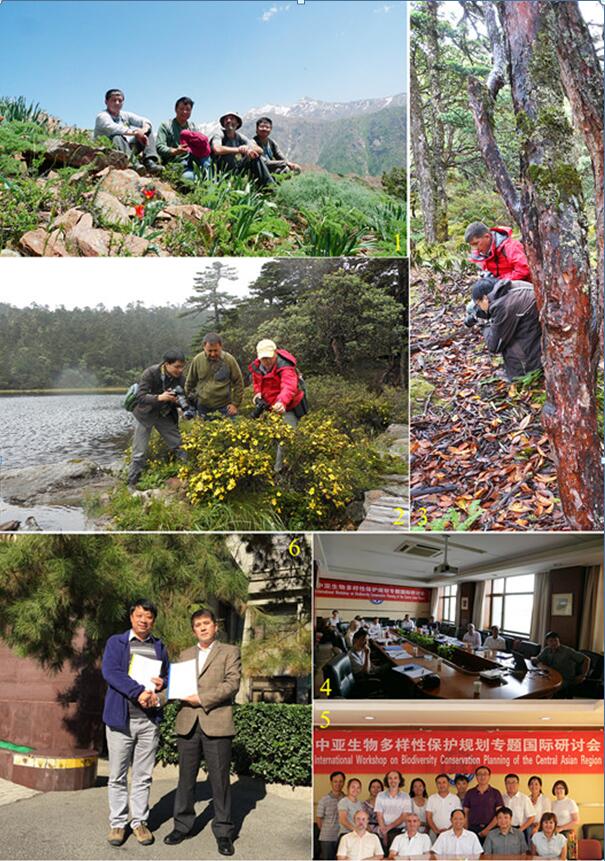 Photo 1: Uzbekistan field trip, Photo 2&3: field trip at Hengduan Mountains, Photo 4&5: International Workshop on Biodiversity Conservation Planning of the Central Asia Region in Xinjiang, Photo 6: MoU signing ceremony (All Images by KIB)