Located some 700m underground in Jiangmen, south China, about 150 km west of Hong Kong, is a lab that China hopes will propel it to the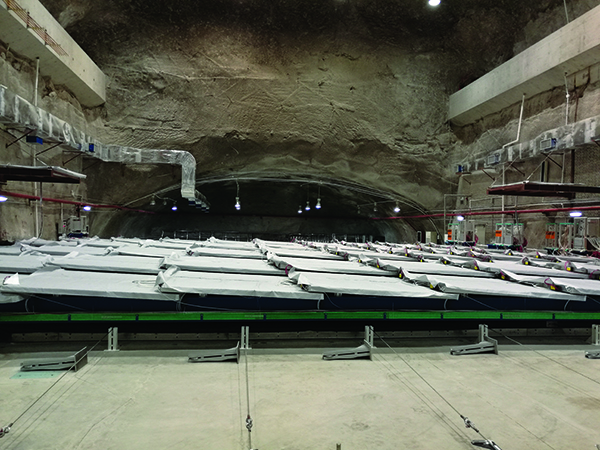 Next big thing The Jiangmen Underground Neutrino Observatory is the successor to the Daya Bay Reactor Neutrino Experiment (pictured) that made one of the best measurements yet of the neutrino mixing angle θ13. (Michael Banks)
frontier of neutrino physics. Building work on the ¥2.2bn (USD330m) Jiangmen Underground Neutrino Observatory (JUNO) began in 2015 with construction expected to take three years. JUNO is expected to start data taking in 2020 and run for at least two decades.
Inside the 80m high, 50m-diameter experimental hall, JUNO will consist of a central detector made from a 35m-diameter acrylic sphere containing 20,000 tonnes of liquid scintillator. It will detect neutrinos as they emerge from two nuclear reactor sites that are both around 50km away – the Yangjiang nuclear power plant with its six 2.9GW reactor cores and the Taishan nuclear plant containing four 4.6GW reactors. Events will be spotted with more than 50,000 photomultiplier tubes that will detect the scintillation light created when a neutrino hits a hydrogen atom.
Neutrinos come in three "flavours" – electron, muon and tau – with the neutrinos able to change, or "oscillate", between the different types. However, physicists also believe that neutrinos can be described in terms of combinations of three mass states – m1, m2 and m3. Interference between these mass states gives rise to the observed oscillations of neutrino flavour – after a certain period of time, an electron neutrino could change into a muon or tau neutrino, for example.
Although physicists have measured many of the parameters that describe this flavour/mass system, uncertainty reigned over θ13, which is a measure of how the m1 and m3 mass states are combined within the flavour states. That was resolved in 2012 when the Daya Bay Reactor Neutrino Experiment – the predecessor to JUNO – made one of the best measurements yet of the neutrino mixing angle θ13 by working out the rate at which electron antineutrinos vanish after being produced in several nuclear reactors. Daya Bay, located around 50km north-east from Hong Kong, had just fired up that same year.
JUNO will take the work at Daya Bay a step further and attempt to determine the neutrino mass hierarchy – a measure of the relation between m1, m2 and m3 – by measuring four out of the six neutrino oscillation parameters to a precision better than 1%. As well as neutrinos produced from the nuclear reactors, JUNO will also study solar-, atmospheric- as well as geoneutrinos.
JUNO was approved in 2013 by the Chinese Academy of Sciences and supported through the Strategic Priority Research Programme. A year later an international collaboration of more than 300 researchers from 60 institutions from Asia, Europe and the US was formed. (Physics World)