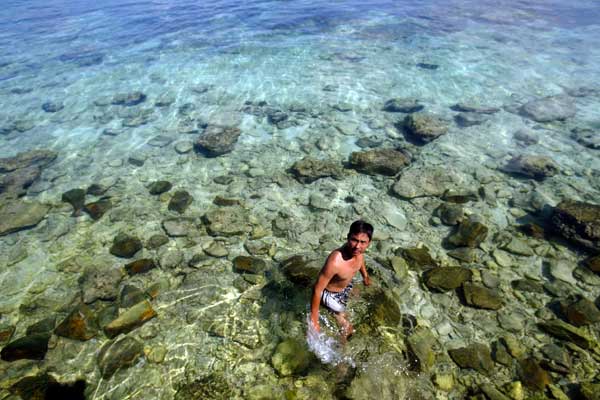 A man stands in shallow water near Yongxing Island, which was once home to coral reefs. [Photo provided to China Daily]
Huang Hui felt pleased that the illegal collection of corals in the South China Sea has declined as a result of stricter regulations.
But just a few years ago, she has witnessed what appeared to be fishing boats illegally stripping corals by scraping the ocean floor with trawl nets in the waters off an island in the Xisha chain.
Huang, a scientist with the South China Sea Institute of Oceanology at the Chinese Academy of Sciences, said she first saw the poachers in 2012.
They were harvesting corals that had been growing for five to eight years.
Poachers are a major problem because they not only harvest corals illegally, but do so in an aggressive and environmentally damaging manner, destroying the entire ecosystem of the seabed around coral reefs.
"So now we are trying to rejuvenate the underwater environment in the South China Sea by planting coral," Huang said.
"Growing coral is like growing a tree-it takes time, but has a tremendous effect on conservation."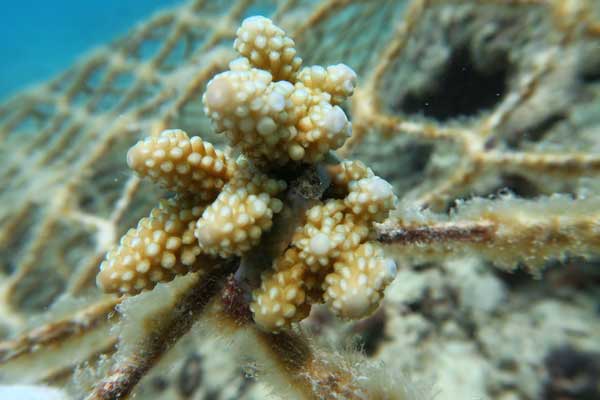 A coral branch transplanted to an artificial reef by scientists. [Photo/China Daily]
Disappearing reefs
China's State Oceanic Administration says that since the 1970s climate change and human activity have resulted in the disappearance of 80 percent of coral reefs along China's coastline.
The reefs, considered the marine equivalent of tropical rainforests, have flourished for more than 500 million years, and although they cover just 2 percent of the ocean floor, they are home to 25 percent of all marine species.
Huang's research team has long studied the ecology of coral reefs, but since 2006 the increasing degeneration has led them to seek solutions.
"In the 1970s, we could find coral reefs 8 or 9 meters underwater. Now, the polluted water means sunlight is unable to penetrate more than 4 meters below the surface of the ocean," Huang said, referring to how many types of coral use photosynthesis to live.
She added that in 1988, when she first visited Dadonghai, a tourist spot in Hainan, the water was always clear.
"Then, I could see my toes when I stood in the water," she said. "But now, you can't see anything."
The team grows coral branches to 5 to 10 centimeters before transplanting them to waters with appropriate temperatures and levels of light, where they are attached to steel-framed artificial reefs.
The survival rate is higher than 95 percent, with the branches growing about 10 cm every year, according to Huang.
Scientists also cultivate corals by catching their germ cells (fertilized eggs) in open water.
"We usually dive around 9 pm when the corals release the cells. We wait in the cold, dark water for several hours," Huang said.
Half of her 30-strong team works at sea for at least six months of the year, living on a boat chartered by the institute.
"One year, we rented a fishing boat that had rotten fish everywhere. I slept on the deck for more than a month, and there were maggots wriggling by my pillow," she said.
Since 2009, Huang has conducted experiments to breed corals in islands in the Xisha chain, including Yongxing, Zhaoshu and Yongle.
Last year, her team established a 600-square-meter experimental zone in the Nansha Islands, where they transplanted more than 1,500 coral branches and sank 87 artificial concrete reefs.
"I am pleased to see that public awareness of coral conservation has been growing rapidly since 2009," said Chen Chang, deputy director of a science research station in Xisha run by the South China Sea Institute of Oceanology.
After years of studying coral reefs in the Xisha chain, including those on the Langhuajiao and Beijiao shoals, Chen proposed a plan to protect marine biological resources by establishing a coral reef ecosystem.
He made the proposal during this year's people's congress held in Sansha city, Hainan, which administers a number of islands, including Xisha, Zhongsha and Nansha.
"In general, the environment in the South China Sea is getting better, but the speed of self-repair is slow. Human intervention is needed," Chen said, adding that in addition to the work undertaken by the government, Sansha residents, especially fishermen, should also participate in the conservation work. "We are trying to recover a complete ecosystem; no corals equals no fish, and no fish equals no fishermen," he said.
In recent years, his group has planted more than 10,000 coral branches, and he hopes to see more than 1 million planted during China's 13th Five-Year Plan (2016-20).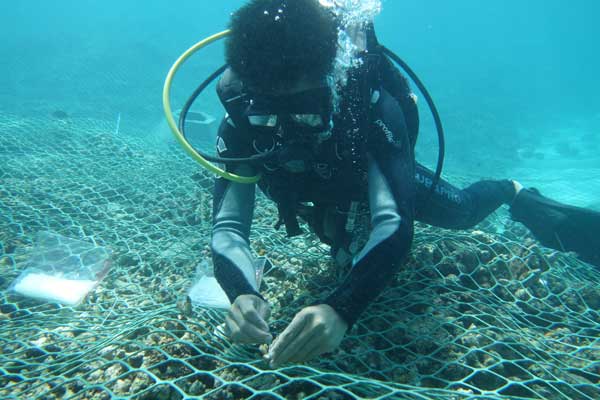 A researcher with the Chinese Academy of Sciences transplants corals in the South China Sea. [Photo provided to China Daily]
A range of threats
Illegal collection for the jewelry industry poses another threat to coral reefs.
Dark-red "oxblood" corals are the rarest, most coveted and most expensive.
They are mostly found about 100 meters below the surface of the ocean.
Last year, coast guards in Guangdong province caught a group of poachers using a fishing boat to collect jewelry corals on the waters off Shantou city.
The police impounded 1.4 kilograms of oxblood with a street value of as much as 5.4 million yuan ($800,000).
Since 2014, the China Coast Guard has intercepted 140 vessels and detained 80 people suspected of illegally harvesting jewelry corals, tracking down more than 200 kg of oxblood in the process.
The country has also dedicated a huge amount of research, effort and funding to protect the vulnerable ecosystem of the South China Sea, according to Chen.
He said that more than 95 percent of the islands and reefs in the sea are composed of corals that have been damaged by "global warming and excessive fishing".
Protection investment rises
In 2009, as part of China's increased investment in the eco-recovery program, the Ministry of Science and Technology invested 19 million yuan in a research program to examine the reproduction and recovery of biological resources in the ocean.
Meanwhile, in 2014, Sansha provided 10 million yuan in the first batch of investment aimed at helping fishermen start new businesses.
In addition to official organizations, NGOs, including China Biodiversity Conservation and the Green Development Foundation, are also participating in the conservation work.
In April, representatives of the foundation visited Xisha to sign agreements to cooperate with the local branch of the South China Sea Institute of Oceanology, and co-founded a coral protection base.
"The natural scenery of the South China Sea is even more beautiful than that in the Maldives and Phuket (in Thailand). We should protect it," said Chen Peng, an island planning and protection expert at the State Oceanic Administration.
Having conducted research on more than 20 islands in the South China Sea, Chen Peng said the area has rich tourism resources, such as stunning tropical views and a rich history and cultural heritage.
"But environmental protection is more important than exploitation," he said. "More financial support and public attention are urgently needed." (China Daily)