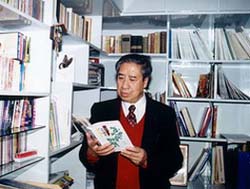 Prof. LIN Liwu
Prof. LIN Liwu, a physical chemist with the CAS Dalian Institute of Chemical Physics (DICP), has recently been elected a Fellow of the Royal Society of Chemistry (FRSC) in UK.
During the 1960s, Prof. Lin and his co-workers invented a new catalyst and process for the hydro-iso-cracking of heavy oil to produce the jet fuel from Daqing paraffin base crude oil which ceased the serious shortage of aviation kerosene at that time. In the 1970s, with the collaboration of the researchers of then Ministry of Petroleum, he explored the multi-metallic catalysts for the first reforming unit using the new generation of catalyst. In the 1980s, he explored the new catalysts for the dehydrogenation of long chain paraffin to produce the detergent. All these catalysts have been put into commercial production. On the fundamental research, he has concentrated the studies of surface structure and reaction chemistry of metallic catalysts for a long time.
As an international learned society with a history of more than 160 years, RSC is among those most influential academic societies in the world. The FRSC is bestowed on members of the society who have demonstrated "substantial career progression and who can offer evidence of seniority and maturity of experience in any field which involves or promotes the advancement or wider application of chemical science."
Three other DICP researchers previously received this honor are SHA Guohe, LI Can, and ZHANG Cunhao.