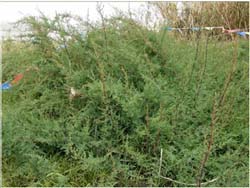 Myricaria laxiflora
A research project for the conservation of two rare and endangered plant species native to the Three Gorges area,
Myricaria laxiflora
and
Adiantum reniforme
var.
sinense
, has made encouraging progress after five years of diligent work by CAS scientists.
As endemic species in the flooded zone of the Three Gorges Dam Project, the largest water conservancy project in the world so far,
M. laxiflora and A. reniforme
var.
sinense
are most severely imperiled plants upon the sluice of the Reservoir, whose water stands at some 150m above the sea level. The former grows at a range from 70 m to 155 m above sea level and the latter 80 m to 480 m, so the original ecological niche of M. laxiflora was totally lost and that of A. reniforme var. sinense largely submerged due to the impoundment.
China has attached great importance to the rescue of rare and endangered species in the Three Gorges area. Ever since September, 2002 under the sponsorship of the Three Gorges Project Construction Committee under the State Council, four
ex-situ
conservation bases have been established for the plants, including a couple of wild conservation centers, one low-temperature preservation base and one botanic garden.
With a total investment of 2.4 million yuan (some US$ 0.32 million), the task was undertook by a team of botanists led by Prof. XIE Zongqiang from the CAS Institute of Botany. They finally achieved a multi-level integrated approach of
in-situ
conservation,
ex-situ
conservation and reconstruction of wild species community. With a new multi-spot and multi-way protection method,
M. laxiflora
and
A. reniforme
var.
sinense
have been successfully removed out of the flooded areas and survived in saver places.
The project passed the close examination of an expert team on 14 and 15 December, 2007 at Fengdu County, Chongqing Municipality in southwestern China.
A milestone progress for all-round ecological-environmental protection in the region, the project sets a good example for subsequent researches and practices on biodiversity conservancy, said Mr. HUANG Zhenli, officer with the Executive Office of Three Gorges Project Construction Committee and head of the project evaluation panel.