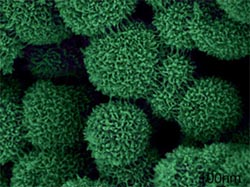 Polyanilin micro- or nano-scale hollow spheres of conducting polymers have recently attracted wide attention owing to their application potentials in various fields. In addition, their super-hydrophobic surfaces with water contact angle higher than 150º are arousing much interest for their possible applications in coating gene delivery micro-fluidic channels and non-wetting liquid transfer.
With support of CAS and the National Natural Science Foundation of China, a research team led by Prof. WAN Meixiang and JIANG Lei from the CAS Institute of Chemistry recently made progress in the self-assembly of multi-functionalized polyaniline micro/nanostructures.
The researchers showed that the conductive and superhydrophobic rambutan-like polyaniline hollow spheres can be prepared by a self-assembly process in the presence of perfluoroocant sulfonic acid as the dopant, according to their report in
Adv. Mater.
(19 2007 2092-2096).
They also demonstrated that the perfluoroocant sulfonic acid has dopant soft-template and brings about superhydrophobic functions at the same time. The conductive rambutan-like hollow spheres with a large specific area and superhydrophobic property may find potential applications in biosensors, drug delivery without losing its activity, drug controllable separation and controlled drug release. In particular the superhydrophobic surface of the hollow spheres may protect their conductive properties as well as the materials encapsulated within.