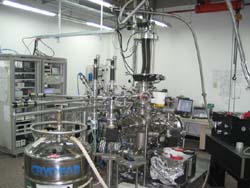 Photoelectric effect refers to a phenomenon that electrons are ejected when a material is irradiated by light. Photoemission spectroscopy is widely used as an experimental method to directly measure the electronic structure of materials. Based on this technique, cutting-edge research is conducted on various issues in semiconductors, superconductors, magnetic materials and etc.
With the support of the CAS Knowledge Innovation Program, the Chinese Ministry of Science and Technology and the National Natural Science Foundation of China, CAS researchers have successfully developed a vacuum ultraviolet (VUV) laser-based angle-resolved photoemission spectroscopy, which will make it possible to probe the electronic structure of materials in a deeper and sharper level. Under the auspices of CAS, the feat passed the acceptance check of a panel of experts on Dec. 28, 2006, in Beijing.
Experts say the performance and main technical specifications of the spectrometer, in which the core technology used has been granted an invention patent in China, US and Japan, are leading in the world. With an ultrahigh energy resolution, ultrahigh photon flux, and bulk sensitivity, it will be a powerful tool in studying advanced materials and condensed state physics.
The main design concept and proprietary innovations of the spectrometer are accomplished in China, noted Dr. ZHOU Xingjiang, a physicist in the CAS Institute of Physics (IOP) and head of the development project. It uses a special optical crystal (KBBF) developed by CHEN Chuangtian's group formerly in CAS Fujian Institute of Research on the Structure of Matter, and the prism coupling technique developed jointly by Chen, now at the CAS Technical Institute of Physics and Chemistry, and XU Zuyan at the IOP.
Although the high-temperature superconductor was discovered about 20 years ago, scientists are still struggling to understand its mechanism, says ZHAO Zhongxian, a superconductor expert from IOP. The new invention will provide an important experimental approach and research platform in studying electronic structure of these high temperature superconductors and other advanced materials. Many of its unique characteristics may enable research that are not possible to be carried out by usual synchrotron light source.