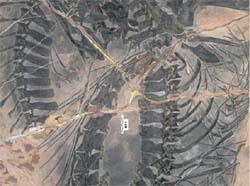 The Archosaurian is an extinct reptile group that gave rise to very diverse lines in evolution, including dinosaurs, pterosaurs and crocodiles. Its early members, traditionally called "thecodonts," flourished all over the globe during the Triassic period, and have long been considered terrestrial (including freshwater) predators.
However, a recent study indicates that the "thecodonts" may hunt in the Triassic ocean about 240 million years ago. As reported in the April issue of the journal
Naturwissenschaften
in German, researchers from CAS, Guizhou, Taiwan and Canada have brought to light a unique member of the Archosaurian,
Quianosuchus mixtus
, which shows a number of striking marine specializations.
Quianosuchus mixtus
, whose name means a crocodile-like reptile with mixed features found in Guizhou, was excavated from the marine limestone of the Triassic in southwest China, says Dr. LI Chun, leader of the team and a researcher from the CAS Institute of Institute of Vertebrate Paleontology & Paleo-anthropology. The research project was supported by the National Natural Science Foundation of China.
According to the researchers, the primitive reptile reflects both aquatic (marine) and terrestrial adaptations. For instance, while having plate-shaped scapula and coracoid, as well as extremely long and lateral compressed tail to propel the water, it has typical terrestrial hindlimbs for walking. "The combination of specimens is so contradictory that could have been mistaken as belonging to different species if we had not discovered several complete skeletons that are relevant to each other," he adds. Scientists picture this ancient reptile as a new off–shore predator, running down prey on the beaches and in the shallows, and using its tail to swim after prey in the deeper water.
The new discovery provides the first clear-cut evidence to challenge the prevailing view that Triassic "thecodonts" were restricted to nonmarine ecosystems. Although some early archosaurian fossils had been found from marine deposits, the specimens were fragmentary and showed few clear aquatic specializations. So, these materials were believed to be the remains of the terrestrial animal washed out to the sea.
Since 1998, Chinese scientists have dug out a great number of fossils of marine reptiles from various localities in Guanling, Xingyi, Panxian and other prehistoric sites in Guizhou Province. The taxonomic layout of these reptilian species is comparable with their counterparts discovered in Europe. Recently, more new and unique discoveries have been made by Dr. Li and his team, which have arose interests from the international paleontological community. A special session for marine Triassic reptiles will be set up at the Second International Conference of Paleontologists to be held in Beijing in the upcoming June.