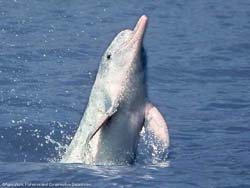 China will launch a thorough investigation into white-flag dolphins in the middle and lower reaches of Yangtze River in 2006, according to a researcher with Chinese Academy of Sciences (CAS).
"We will carry out the investigation using the fund offered by White-flag Dolphin Foundation based in Switzerland," said Wang Li,a researcher from the CAS Institute of Hydrobiology.
With close observations on the dolphins, experts will find and catch the animals to divert them into the old course of the Yangtze River section at central China's Hubei, according to Wang.
"There we have succeeded in breeding cowfish, a close relative of the white-flag dolphin." said the researcher.
Wang believes that there are still some white-flag dolphins in the Yangtze River although the number might be less than 100.
The State Ministry of Agriculture came up with a plan of saving the dolphins earlier this month, urging concerned departments to take measures for the protection of the animal.
The white-flag dolphin is one of the four freshwater dolphins living on the planet and an endangered aquicolous mammal in China. (Xinhuanet)