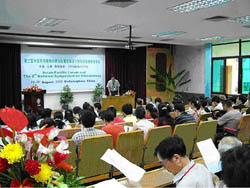 The Asian Pacific Forum and the 2nd National Symposium on Ethnobotany opened August 17 at the CAS Xishuangbanna Tropical Botanical Garden (XTBG), a cradle of Chinese ethnobotany in southwest China's Yunnan Province.
Under the theme of ethnobotany and sustainable use of plant resources, the symposium was organized by XTBG and the Chinese Ethnobotany Association. Its mission is to put forward development of ethnobotany in China, exchange up-to-date research achievements, review the world development in the field and promote the efficient utilization of plant resources and its sustainable development.
The meeting attracted about 120 ethnobotanists (including 12 from seven foreign countries). More than 60 scholars delivered their reports at the plenary meeting and group sessions. They mainly dealt with the following aspects: sustainable use of plant resources; cultural diversity and conservation of biodiversity, utilization of medicinal plants and inheritance of ethnomedicinal knowledge; ethnoecology and wild cultivation of native useful plants; and development of ethnobotany in Asian Pacific regions.
The first national symposium on ethnobotany was held in Hangzhou in October 2002 with over one hundred participants.