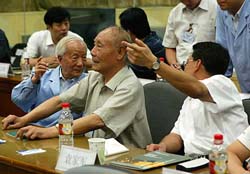 China and the European Space Agency (ESA) have shared "very valuable" information acquired from the Probe No. 1 (or TC-1), the first satellite of the Sino-ESA Double Star Project, which entered into the orbit last December, according to the Space Science and Application Center of the Chinese Academy of Sciences.
The Probe No. 1 installs eight sets of sophisticated equipment, which were jointly designed and manufactured by the two sides.
The Chinese center collects information and data about the satellite via some ground stations and transmit information on the movements of the satellite to the ESA. Based on the information transmitted by the Chinese side, the ESA work out working plans for the ESA apparatus aboard the Probe No. 1 and afterwards, the Chinese side inputs the ESA plans into the apparatus.
As an equatorial satellite, the Probe No. 1 often goes through the magnetic storm and radiation zone, which is difficult for the Chinese ground controller, the Xi'an Satellite Monitor and Control Center, in northwest China.
So far, the Chinese user, the ground control center, and the ESA have been satisfactory at each other's technical coordination and assistance.(Xinhuanet)