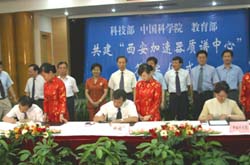 High-ranking officials, including CAS Vice President Li Jiayang, MOE Vice Minister Zhao Xinping, Vice Governor of Shaanxi Province Zhu Jingzhi, were present at the signing ceremony of the cooperation agreement.
The signing ceremony for a protocol to jointly develop the Xi'an Center for Accelerator Mass Spectrometry was held on July 5 at Xi'an Jiaotong University in Xi'an, capital of northwest China's Shaanxi Province. Representatives from CAS, Ministry of Science and Technology (MOST) and Ministry of Education (MOE) put their names on the framework agreement for cooperation on behalf of their respective organizations.
Developed in the late 1970s, Accelerator Mass Spectrometry (AMS) is an analytical technique that uses an ion accelerator and its beam transport system as an ultrasensitive mass spectrometer to provide several stages of mass and charge analysis and to ultimately count individual atoms. It has applications to a wide range of research areas such as geology, hydrology, oceanography, glaciology, and paleoclimatic studies.
As China's first such laboratory in the field of earth sciences, the Xi'an Center for Accelerator Mass Spectrometry will be co-developed by the CAS Institute of Earth Environment and Xi'an Jiaotong University with the joint investment of MOST, MOE and CAS.
Located on the campus of Xi'an Jiaotong University, the Center will take advantage of the CAS expertise and be assessable by all parties. It will, by making use of the AMS facility introduced from the Netherlands, focus on studies into environment changes and contribute to cooperative research in the fields of earth sciences, archeology and life sciences.
Through the cooperation and by adopting a mechanism compatible with the international practice, says President of CAS Xi'an Branch An Zhisheng, the Center strives to become an interdisciplinary platform for research and application open to all qualified users and a training center for young researchers.