[video:20150803-China starts assembling largest radio telescope]
China has started assembling the world's largest radio telescope as it looks to improve its ability to explore outer space. The 500-meter Aperture Spherical Radio Telescope, or FAST, rests in a bowl-shaped valley in the southwestern province of Guizhou. The telescope will have a dish the size of 30 soccer fields when it is completed.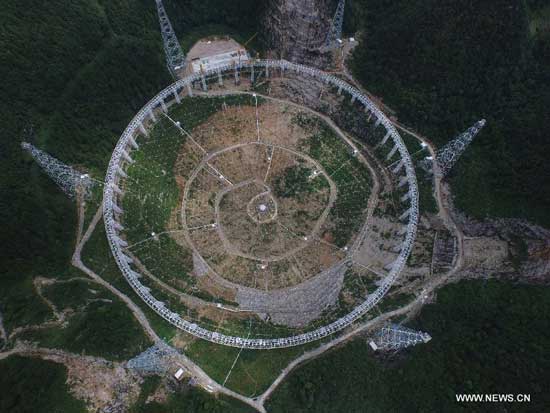 Photo taken on Aug. 2, 2015 shows an aerial view of the assembly site of the single-aperture spherical telescope "FAST" in Qiannan of southwest China's Guizhou Province. The assembly of the reflectors on the telescope, with a dish the size of 30 football fields and located deep in the mountains of Guizhou, has entered a key stage as workers began hoisting the first reflector here Sunday. When it is completed in 2016, the five hundred meter aperture spherical telescope (FAST) will be the world's largest, overtaking Puerto Rico's Arecibo Observatory, which is 300 meters in diameter. (Xinhua/Ou Dongqu)
The largest single-aperture telescope is now taking shape. Technicians have begun attaching 4,450 triangular-shaped panels to the telescope's reflector. And the first panel has been finished.
"It requires high precision to install small triangular-shaped panels. The flatness is 1.5 millimeters. It will rise to 2 millimeters after being formed into a bigger one," said Zheng Yuanpeng, China Electronics Tech. Group Corporation general designer.
Chinese scientists have relied for years on "second hand" data collected by others in their research. The new telescope is expected to greatly enhance China's ability to search for intelligent life in outer space and to explore the origins of the universe.
"It can explore deeper into space and look at asteroids and even Mars. Once completed, the telescope will be China's first internationally renowned equipment within a certain wave band. It will give China an opportunity to conduct frontier research," said Li Di, scientist, Chinese Academy Of Sciences.
The region's topography is ideal for draining rainwater and protecting the reflector. There also are no towns within five kilometers of the telescope, giving it ideal surroundings to listen for signals from space.
Construction on the telescope began in March 2011 and is scheduled to be completed in September 2015. (CCTV.com)