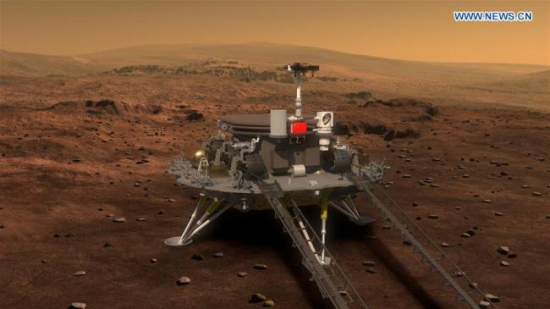 Picture released on Aug. 23, 2016 by lunar probe and space project center of Chinese State Adiministration of Science, Technology and Industry for National Defence shows the concept portraying what the Mars rover and lander would look like. (Photo/Xinhua)
China will launch two Mars missions in 2020 and 2028 as four deep space exploration missions are planned before 2030.
In December this year, China's Chang'e-4 lunar probe will land in Aitken Basin of the lunar south pole region on the far side of the moon, which is a hot spot for scientific and space exploration.
The fourth phase of the Chinese Lunar Exploration Program will include four missions before 2030, with a final goal to establish a research station on the Earth's only natural satellite in the long term.
The country will then launch its first Mars probe in 2020, which is expected to orbit, land and put a rover on the Red Planet in 2021, after ten months of flying. The second Mars probe is scheduled for 2028 to bring samples back to Earth. China will also probe asteroids and undertake an exploration mission to the Jupiter system around 2030.
Li Guoping, director general of the Department of System Engineering at the China National Space Administration, said a new Long March 8 rocket utilizing two 2.25m-diameter solid-propelled boosters is currently being research and will be launched in 2020.
The heavy-lift carrier rocket Long March-9, to be launched in 2028, will exceed 90 meters, have a core stage with a diameter of 10 meters, and be able to carry a payload of 140 tonnes into low-Earth orbit, five times that of the Long March-5, according to Li.
He said China will strengthen its use of space technology to monitor the global climate and plans to send into orbit two satellites. The country has also launched a program to study the probability of earthquake occurrence through electromagnetic monitoring.
Li stated China promotes cooperation between government and social capital and will improve government procurement of commercial aerospace products and services. A new regulation regarding rocket launchers will be released shortly and that the country supports open and shared commercial space launch sites. (ECNS)