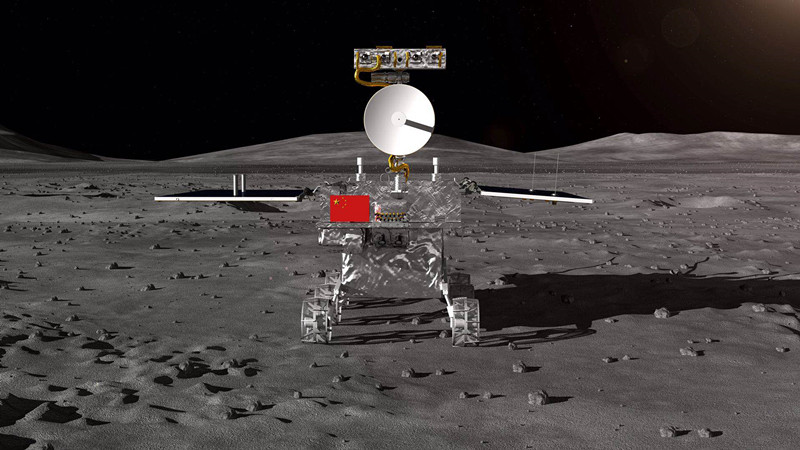 A campaign started on Wednesday to solicit names for the lunar rover of China's Chang'e 4 lunar probe. The Chang'e 4 mission is scheduled for December. ARTIST'S RENDERING/CHINA DAILY
Public invited to suggest names for craft set to launch in December
Chinese scientists unveiled their latest lunar probe, the Chang'e 4, on Wednesday, saying it will be launched in December on a mission to land on the far side of the moon.
Wu Weiren, chief engineer of China's lunar exploration program, said the Chang'e 4 consists of two parts - a lander and a rover, and both carry multiple scientific instruments.
The probe's design is based on its predecessor, the Chang'e 3, but with some modifications, he told the audience during a ceremony in Beijing on Wednesday at the start of a public solicitation to give the rover a name.
Pictures published by the China National Space Administration at the ceremony showed the Chang'e 4 rover with six wheels, two solar panels, a radar dish and multiple cameras.
"The rover is the lightest of its kind in the world. It weighs only 140 kilograms, while its predecessors were much heavier," said Wu, an academician of the Chinese Academy of Engineering.
He said the rover is equipped with an advanced lunar penetrating radar whose job is to produce the world's first geologic cross-section of the moon's far side, and the results will help scientists deepen their understanding of the silver sphere's evolution.
Wu also added that the rover's mechanical systems have been tested many times and have been upgraded to improve reliability and avoid malfunctions.
In addition, he disclosed that the Chang'e 3 probe's lander, which has been on the lunar surface for nearly five years, is in good condition and continues to fulfill its scientific missions.
Liu Jizhong, director of China National Space Administration's Lunar Exploration and Space Engineering Center, said that the Chang'e 4 has been engineered to fit the complex landscape and sophisticated communication conditions on the far side of the moon.
China plans to launch the Chang'e 4 before the end of this year and land it on the far side of the moon, where no probe from Earth has landed or explored. The far side has been extensively photographed, starting with a Soviet probe in 1959. In 1962, a NASA probe crashed into the far side, and sent back no data.
Tidal forces on Earth slow the moon's rotation to the point where the same side always faces Earth. Most of the far side is never visible.
The Chang'e 4 mission will give scientists more detailed information than they've had before. They also can take advantage of the far side's shield against interference from Earth and make clearer observations into deep space, according to Bao Weimin, head of science and technology at China Aerospace Science and Technology Corp.
In May, China launched a relay satellite into an orbital position that will allow it to pass signals between Chang'e 4 and ground control. (China Daily)