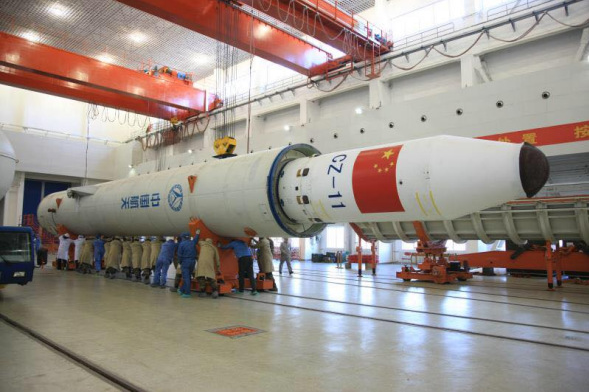 The Long March 11 carrier rocket. (Photo/chinadaily.com.cn)
China launched a Long March 11 carrier rocket on Friday to send six satellites into space, according to the China Academy of Launch Vehicle Technology.
The mission marked the first time that a Chinese solid-propellant rocket has been used to service a foreign client, the academy, which developed and built the rocket, said in a news release.
The Long March 11 blasted off at Jiuquan Satellite Launch Center in northwestern China at 12: 12 pm and later put six small satellites — two Earth-observation satellites made by a State-owned firm, three experimental satellites from Chinese private companies as well as an unidentified one from a Canadian company — into orbit.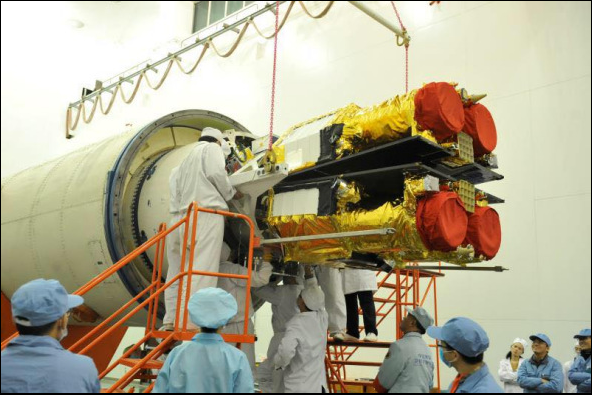 The Long March 11 carrier rocket. (Photo/chinadaily.com.cn)
This is the third mission of Long March 11 and the 264th of the Long March family, according to the academy.
Long March 11 is 20.8 meters long, has a diameter of 2 m and a liftoff weight of 58 metric tons. It is capable of sending payloads of 700 kilograms to a low-Earth orbit or 400 kg to a Sun-synchronous orbit 700 kilometers above the ground, statistics from the academy show.
Its first flight was in September 2015 at the Jiuquan center when it lifted four satellites to a Sun-synchronous orbit. The second flight took place in November 2016 at the same center, sending an X-ray pulsar navigation satellite and four small experimental satellites into orbit. (Chinadaily)