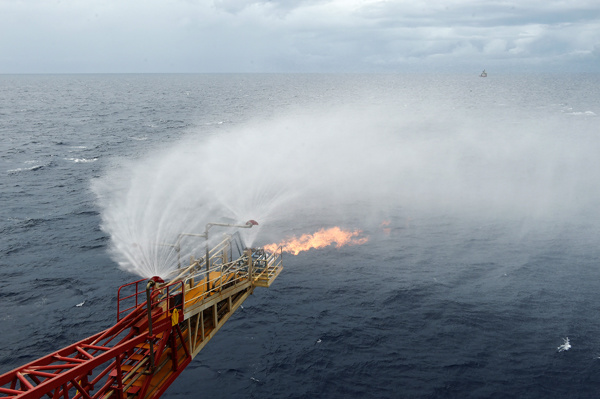 Combustible ice is seen burning on an ultra-deep-water semi-submersible drilling rig near the coast in Zhuhai, Guangdong province, recently. (Photo/Xinhua)
A natural gas hydrate national laboratory under China National Offshore Oil Corporation has been approved by the Ministry of Science and Technology, as China gains an edge for combustible ice commercial production after sustained trials.
The laboratory should focus primarily on the development of strategic emerging industries in order to enhance the corporation's independent innovation ability and core competitiveness, the ministry said.
Combustible ice is formed under low temperature and high pressure in permafrost under the sea. One cubic meter of the hydrate can release about 160 cu m of gas, but it would emit only half the amount of carbon dioxide produced by oil or coal.
The laboratory should focus on applied basic research and key technology research and development, and come up with a national industry standard while leading and driving technical progress, it said.
China's successful sampling of combustible ice has made headlines in recent months, highlighting China's technological innovations.
It successfully wrapped up its first test exploration of combustible ice, also known as natural gas hydrates, in the South China Sea on July 9, which lasted 60 days, with total production capacity and daily production capacity exceeding 300,000 cu m and 5,000 cu m, respectively.
Lu Hailong, a professor at the Institute of Ocean Research at Peking University and the chief scientist in the first mining trials, said China has accumulated ample experience and has become the front-runner in gas hydrate mining technology in recent years.
"Successful mining of gas hydrate in China is seen as a breakthrough toward a global energy revolution," he said.
Lu said a longer, more productive trial is possible by 2020 in the South China Sea.
Li Jinfa, deputy director of the China Geological Survey, said the South China Sea has an estimated 80 billion metric tons of oil equivalent of gas hydrate reserves. In all, there are 100 billion tons in the Qinghai-Tibet Plateau, and in the South China and East China seas.
China has recently approved listing natural gas hydrate as the country's 173rd mineral variety, a move that will speed up the exploitation of the clean energy source.
No country is yet able to produce gas hydrate commercially due to the challenging conditions and pollution concerns.
According to Jin Qinghuan, an academician with the Chinese Academy of Engineering, China will complete the initial preparatory work for commercial production by 2020 and begin commercial production by 2030.
Successful trials have given China an edge in mining in silt sand seabed, making it a forerunner in mining for clean energy, he said. (China Daily)