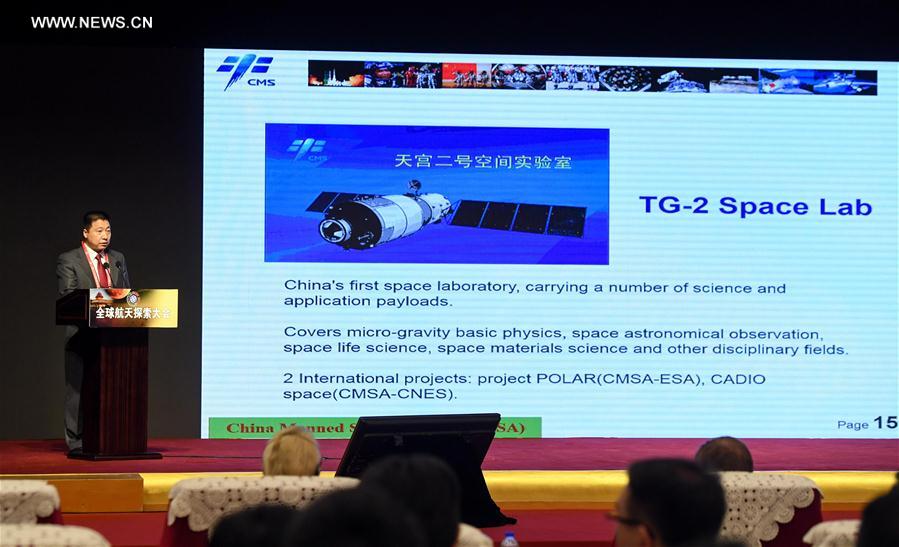 Yang Liwei, China's first astronaut and deputy director of China's manned space program office, makes a speech during the 2017 Global Space Exploration Conference in Beijing, capital of China, June 6, 2017. The conference opened Tuesday in Beijing. (Xinhua/Chen Yehua)
China is making preliminary preparations for a manned lunar landing mission, said Yang Liwei, deputy director general of China Manned Space Agency, here on Tuesday.
It will not take long for the project to get official approval and funding, Yang said during a group interview at the Global Space Exploration Conference (GLEX 2017).
When asked whether he has any plan to step onto the Moon, Yang, China's first astronaut, showed great excitement. "If I am given the opportunity, no problem!" he said.
Wu Yansheng, president of China Aerospace Science and Technology Corporation (CASC), also said that China is working on a manned lunar landing plan.
The mission will consist of a manned spaceship, a propulsion vehicle and a lunar lander. The manned spaceship and the lunar lander will be sent into circumlunar orbit separately, according to Wu. (Xinhua)