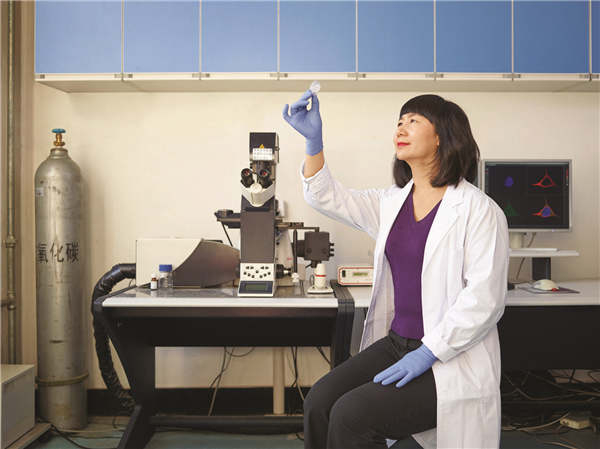 Chen Hualan wins the 2016 L'Oreal-UNESCO for Women in Science International Awards for her research of the bird flu virus. (Photo provided to China Daily)
Chinese women scientists have started to make their mark on the world stage more consistently.
For the second year in a row, a scientist from the Chinese mainland has won the L'Oreal-UNESCO for Women in Science International Award this year.
Chen Hualan, the head of Harbin Veterinary Research Institute, an affiliate of the Chinese Academy of Agricultural Sciences, received the award in Paris on March 24.
Created in 1998, the awards program-jointly funded by the French cosmetics maker and the United Nations' agency-identifies and supports female scientists globally.
Chen, 47, is the second Chinese scientist to win the award-after chemist Xie Yi in 2015-due to her outstanding research of the virus that causes avian influenza or bird flu.
Her work led to the development of an effective vaccine. In 2013, she had played a major role in China's action against the bird flu strain H7N9.
That year, Chen and her team from the Harbin institute in the country's northeast found out the routes of H7N9 transmission from birds or other animals to humans, lending crucial support to overall government efforts to control the spread of the disease.
Within 48 hours of the first cases being reported in Shanghai and Anhui province in the country's east, Chen and her team collected hundreds of soil, water and poultry samples from the affected areas.
Tests revealed the presence of H7N9 in some 20 samples gathered from live poultry in a Shanghai market.
Thanks to their findings, authorities managed to quickly shut down poultry markets in cities where the cases were reported.
Chen's contributions in quelling the outbreak in China, as well as her general studies of the bird flu virus, including experiments creating virus hybrids to illustrate the threats posed by new strains, put her on Nature magazine's list of "10 people who mattered" in 2013.
Chen says that it wasn't until she became a PhD scholar in 1994 and began working on influenza that she understood her life's goal.
"I realized that through my research I could help solve major problems and make a difference," she says.
The highly pathogenic avian influenza virus can result in large-scale killing of poultry, but it was earlier thought that vaccines would be ineffective on poultry.
When Chen was a PhD student, she generated several vaccines using both traditional and modern methods, and found that the vaccines could provide protection against bird flu.
The experience also told her that perceptions aren't always correct and that's the point of science-to dig.
In China, it is even more important to develop vaccines against avian influenza, Chen says. The country has a tradition of raising ducks and raises about 75 percent of the world's free-range duck population. The ducks here come in contact with wild birds-a situation that poses a challenge to the country's efforts to prevent and control the flu.
In 2009, Chen and her team started to work on vaccines against influenza in waterfowl. Three years later, they succeeded.
Talking about issues of gender, she jokes that women in science also have to balance work and home while men don't usually have to worry about the laundry or child care. (China Daily)