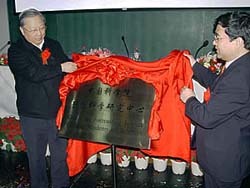 CAS President LU Yongxiang and AMSS Director General GUO Lei unveil the nameplate for the Center.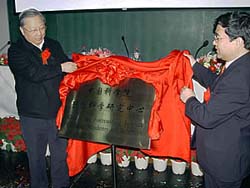 After one year trial operation, the CAS Center for Forecasting Science (CEFS) officially opened on Feb. 16 at the CAS Academy of Mathematics and Systems Science (AMSS) in Beijing. More than 120 officials and scholars, including CAS President LU Yongxiang, who is also vice chairman of the Standing Committee of China's top legislature NPC, attended the nameplate unrevealing ceremony.
Prof. GUO Lei, CAS member and Director-General of AMSS, will head the Executive Board of CEFS, while Prof. CHENG Siwei, a macro-economist and vice chairman of the NPC Standing Committee, will chair its scientific committee.
We are expected to invent new theories, methodologies and techniques for making predictions about the concrete major forecasting problems," said Prof. Guo. Apart from academic breakthroughs, it strives to serve the economic and social development of the country, stresses Prof. WANG Shouyang, an expert in management science and CEFS director.
Although based in AMSS, CEFS will be an interdisciplinary and pan-institute center, pooling research sources from various CAS institutes, including Institute of Geographic Sciences and Natural Resources Research, Institute of Policy and Management, Institute of Remote Sensing Applications, University of Science and Technology of China, and the CAS Graduate University.
On the occasion of opening ceremony, the Center released seven forecasting reports on such issues as national imports and exports, international oil prices, domestic commodity prices, national economic situation, impact of the rapid economic growth on the food and energy security as well as the global trends in economic development, regional energy demands, and economic impact of oil price fluctuations.